Keno Games Directory
Single & Multi Card Keno Game Directory: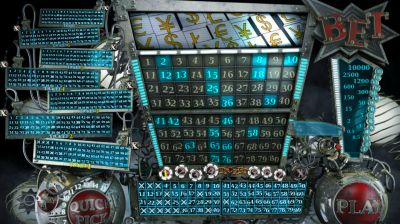 Welcome to our Keno Games Directory.
On this page we provide you a list of every Keno game that you can play online. So if you are looking to play Keno online then this is the page for you.
Dr. Keno has went through EVERY online casino and came up with this complete list of every Keno game available online. If you're looking for Keno games to play on Windows, Keno games to play on Mac – whatever you're looking for, I've got it covered.
The list of Keno games is sorted in alphabetical order:
40-Ball Keno: As the name suggests, there are only 1-40 numbers included in the game instead of the classic 80. Players are supposed to pick between 1-10 numbers and so is the casino.
Amaterasu Keno: "Amaterasu" is a Japanese word, referring to the sun goddess whose lineage is associated with the Japanese royal family. Amaterasu Keno has six win multipliers, eight bet sizes, and lucky numbers that trigger free games.
Banana Keno: A fun banana themed Keno game with a tropical rainforest setting. Variety of different bets and has animated 3D graphics.
Balloon Game Keno: Another keno-based game made by U1 Gaming. This game is similar to Cavemen Keno, but it uses five balloons instead of three eggs.
Book of Keno: Set in a hieroglyphic illuminated ancient Egyptian temple, this is a fun version of Keno.
Cavemen Keno: Caveman Keno is a fun and exciting game that allows you to experience some prehistoric roots while playing a new version of the old classic game. The graphical user interface that features prehistoric creatures along with an additional egg bonus which gives you the opportunity to have a higher payout.
Circus Keno: This game features multipliers that can really change the game. These bonuses can ramp up and become quite significant in the end game as a poultry win of 2.5$ can become a significant 25$ win if paired with a 10X multiplier.
Cleopatra Keno: One of the benefits of Cleopatra Keno is its free game bonus, where you could be awarded 12 free plays and have any wins multiplied by two. In order to qualify for this bonus, the final number in the game the game will need to match a marked number on your board.
Disco Keno: A fun Keno game set in a nightclub with a disco theme to it and a multiplier on the 20th drawn ball.
Extra Draw Keno: Extra Draw Keno operates like the conventional keno, only that you can buy more balls for an original wager price after you have a ball draw. Extra draw keno game is a simple game to understand as it works almost the same as a lottery.
Firefly Keno: A fun oriental keno variant with fireflies which show up during gameplay.
Fortune Keno: A unique graphic experience as this game features a fortune teller holding a crystal ball. Once you have selected your numbers and are ready to play, the fortune teller will rub her crystal ball. It then begins to glow, revealing the numbers spinning around inside. Eventually, they shoot out of the ball on to the board. (Hopefully, landing on the numbers you have chosen!)
Golden Egg Keno: Part of the PlayPearls "Golden" line which also features Golden Stars and Golden Dragon.
Halloween Keno: Nothing like a special themed game of Keno. Halloween Keno is of course themed for Halloween and is a real fun game to play in October.
High/Low/Middle Keno: The basic rules of the game are the same as regular Keno but what the player is betting on is completely different. Rather than just betting that certain numbers will be drawn, the player bets on which categories the numbers drawn will fall into. High/low/middle Keno is most often played in Macau.
Instant Keno: Instant Keno is a fast and fun version of 80 ball Keno. If you know how to play Keno then you will have no problem playing Instant Keno as it uses all of the same rules that you know already. It's just faster.
Instant Keno Multiplier: A new version of Instant Keno with a multiplier in it.
Jackpot 15 Keno: Playing Jackpot 15 Keno is easy and players at all familiar with Keno will have no problems picking this up and playing right away. This version allows player to select up to 15 numbers.
Jungle Keno: A fun Jungle themed Keno game with lots of lovely flowers!
Keno 101: Keno 101 is a simple and basic single card version of Keno. This version features table limits of $0.50, $1.00, $2.00, $5.00 and $10.00.
Keno Blitz: Keno Blitz is a keno game with fire and weather elements in it.
Keno Neo: With the dark green interface, the Matrix was clearly an inspiration for this Bally Wuff version of Keno.
Keno Neon: A neon-themed Keno game that is quite fun to play. Nice graphics to it.
Keno Heads or Tails: In Keno Heads or Tails, the player has the chance to double the amount of payout played, or even quadruple the payout amount. A player chooses Heads or Tails; then, the player has the chance to win $2.00 USD for every $1.00 USD played. If the player chooses Evens; then, the player will receive $4.00 USD for every $1.00 USD played.
Keno Live: Keno Live is a live multiplayer version of Keno and is a really cool game to try out. It's all within a timed session that you will play with other people.
Keno Pop: A fun game by 1×2 Gaming with an inflatable variant to it.
Keno T+: If you enjoy retro or vintage themed Keno games then this one is right up your alley.
Kenotronic: From the same guys that brought us Tutan Keno and FireFly Keno this one has a real electronic and futuristic design to it.
Keno TV Show: This one is all about the presentation. It is you sitting watching Keno on TV with your game card in front of you. Your remote control is where all of your options are located and the TV screen works as the Keno board. The winning numbers are announced by the on-screen TV show host. This game is a fun and funny version of the game of Keno and is very memorable even if you don't like it.
Keno Xperiment: Keno Xperiment is a version of Keno that features a random pick feature. You also have the option to play five games continuously.
Klub Keno: This version of Keno uses only 40 numbers and you can pick anywhere from 3 numbers up to 10 numbers. There is a StarBall that will land on the board and if it lands on a number you have bet on then you will win 2 X the payout
Koi Keno: A Japanese-style decorative pond themed Keno game. Quite a nice and attractive one to play.
Krazy Keno: Krazy Keno is a quick and fast paced version of Keno that is ready to go whenever you are. The game features 40 numbers instead of the usual 80 and is played at a fast pace.
Lotto Madness Scratch: This keno version features a card box containing numbers from 1 to 49, and five numbers are entered into a 'tube'. Once you have scratched a cash symbol, you will automatically win a prize.
Lucky Keno: This is one by Pariplay who also operate World Cup Keno.
Magical Keno: A magical themed version of Keno which takes place in an enchanted forest.
Microgaming Keno: Like other versions of Online Keno, Microgaming Keno follows the same guide lines and rules. The center of the screen is the Keno board where you select your numbers and where the winning numbers are randomly drawn. Microgaming Keno is a great Keno game that runs flawlessly thanks to Microgaming Software's experience in the Online Casino industry.
Poker Keno: This game is quite similar to Let It Ride. You choose the amount you want to bet, and you get paid on a Pair of Jacks or higher. You are given two hole cards, and then the flop, turn and river are dealt face down – it's essentially poker.
Powerball Keno: Taking its name from the popular lottery in the USA of course. A fun Keno game also available on mobile.
Power Keno: Power Keno is the same game of Keno we all love with the option to play with up to seven cards at once. The added number of cards just heightens the excitement level of an already exciting game and gives you a better chance of winning.
Redneck Keno : In Redneck Keno there are horseshoes instead of balls. The 20 horseshoes are broken down into 12 silver horse shoes and 8 gold horseshoes every single time a game is played.
RTG Keno (Real Time Gaming): RTG Keno is your basic version of Keno. This game runs smooth and fast and offers players an incredibly easy to understand layout that will have players new to Keno playing in no time.
Space Keno: Space Keno is available from VideoSlots, an entirely browser based online Casino and no matter what internet browser you decide to use, each and every game at VideoSlots will work fine. Good betting limits, graphics and sound effects and autoplay all make for a great game and one that I would recommend just for that alone.
Super Spot Keno: In Super Spot Keno, the player has a pool of eighty numbers. Out of this pool, the player can choose between two and ten numbers. The final number chosen is called the Super Spot.
Superball Keno: In Superball Keno, the rules are similar to traditional Keno games that you may have played in the past. However, in Superball Keno, an additional element is added – the superball. This ball can increase your winnings if it matches a number that you have previously selected.
Traditional Keno: Traditional Keno is a great version of 80 ball Keno that may be best suited for players who are new to the game or for players who don't like or want all of the fancy bells and whistles that other version of Keno offer. A nice, basic version of Keno that all players will be able to enjoy no matter the skill level or experience.
Vegas Jackpot Keno: The two major differences between this version of Keno and others is: The payouts are a lot better and you can win a decent payout for not catching any numbers. Those two things that make this a pretty amazing version compared to the traditional Keno games.