MultiCardKeno.com » Keno Games »
Jackpot 15 Keno

What Is Jackpot 15 Keno?
Jackpot 15 Keno is a fast paced version of single card Keno that you can play at 888 Casino (Doesn't accept Americans; play Power Keno at WinADay instead.). This version of Keno is a great option for players of all skill levels thanks to the simplicity and ease of the game. While the game is very easy to play and use, it still offers players the excitement that you have come to expect from Keno. Jackpot 15 also has some unique features that make this version stand out from the others.
Where To Play Jackpot 15 Keno
To play Jackpot 15 Keno you will first need to head to 888 Casino and login or register an account with them. 888 Casino (Doesn't accept Americans; play Power Keno at WinADay instead.) is a fantastic Online Casino that offers players not only a Casino but also a great Sportsbook as well. 888 has great customer support, many deposit and withdraw methods and great software to ensure you Keno experience runs as smooth and fast as possible.
Here is a screenshot of Jackpot 15 Keno: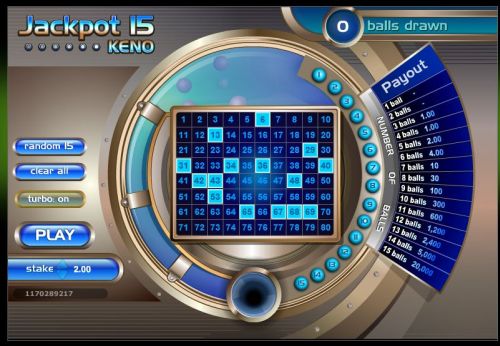 After you are signed up you are ready to get going. To find Jackpot Keno at 888 Casino you will need to first click on the "Arcade Games" option from the main screen of the Casino. From there you can find the list of Keno games available to play by clicking on the "Keno" subheading listed. There are currently 3 versions of Keno to play at 888 Casino but to continue just click on Jackpot 15 Keno to begin playing.
Jackpot 15 Keno Features
This version has a few features that players will like. Below I will go over all the feature that this version of the Classic game has to offer.
Fast game play
Very simple to play and understand
888 Casino (Doesn't accept Americans; play Power Keno at WinADay instead.) is an award winning Casino. Once there you will see why
Allows player to select up to 15 numbers.
Big large, hard to miss buttons makes it a very easy game to both understand and play
Decent set of table limits; Players can bet as little as $0.50 per round of Keno or up to as much as $300.00 per round
Random 15: By choosing this the game will automatically select 15 numbers at random for the user.
Clear All: Clears all numbers that have been selected allowing the player to select all new numbers
Turbo: By turning this on the games draw speed is increased meaning more games can be played in a shorter amount of time. Quicker games = More Winning
Payout Chart: A nice and easy to understand chart listed to the right of the Keno board showing the player the potential winnings available based on the amount of numbers picked
Jackpot 15 Keno Rules
Playing Jackpot 15 Keno is easy and players at all familiar with Keno will have no problems picking this up and playing right away. But for players new to Keno we will go over how to play this version so you too will be playing like a pro in no time.
Your first step is to determine how much you would like to wager on the round of Keno you are about to play. You can bet as little as $0.50 or as much as $300.00.
After selecting you wager you now will want to determine your numbers for this round. You can choose one number, two numbers or any amount of numbers up to 15 numbers. The more numbers you play the more potential numbers you can match and then the more you can potentially win. Choosing a number is easy, just click on the number you would like to choose by simply clicking on it. To deselect a number just click on it to un-highlight it.
To have Jackpot 15 Keno select 15 random numbers for you then just click on "Random 15" to have 15 numbers chosen for you. If you don't like the 15 numbers you can keep clicking on Random 15 until you see a set of numbers you feel comfortable with.
Once you have chosen your numbers the payout chart to the right of the Keno board where you choose the numbers will list how much you can based on how many numbers you match.
When ready to begin the round click on play to start the game.
After the balls have been drawn you will win depending on how many numbers you played and matched.
To play again using the same numbers and wager amount as the previous round just click play to begin another round right away. To clear the numbers off of the board and select new ones click on "Clear All". To speed up the length of time it takes for the numbers to be drawn click on "Turbo" option to dramatically speed up each round
Jackpot 15 Keno Review
Jackpot 15 Keno is a good version of Keno. Although the name of the game may be a little misleading, there is no Jackpot to be one here, this game is still and exciting and fast paced version. The is plenty of money to be won with a good set of table limits. I personally really enjoy using 888 Casino (Doesn't accept Americans; play Power Keno at WinADay instead.) for their wide range of not only Keno games but also for their other casino games, fantastic software, great Sportsbook and overall just a great Casino so this game was perfect for me. Give it a shot and see if it seems like place you can enjoy.
Our Most Popular Keno Casinos for United States: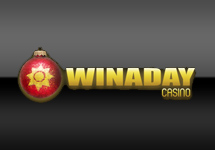 "WinADay Casino is the home of "Power Keno', the most populer online casino game with 7 Cards of Keno at once!"