MultiCardKeno.com » Keno Games »
Power Keno

What is Power Keno?
Power Keno is an exciting fast paced version of Keno played using multiple cards. Don't be intimidated by the words "multiple cards" it's still the same game of Keno we all love just with the option to play with up to 7 cards at once. It looks like it could be one of jigsaws torture devices from the Saw movies but the only torture from this game will be on your computer chair after you sit there for endless hours playing this game.
Once you have selected your cards and numbers then press play and the game board will start to look like it's malfunctioning eventually slowing down revealing the winning numbers.
Here is a screenshot of Power Keno in action: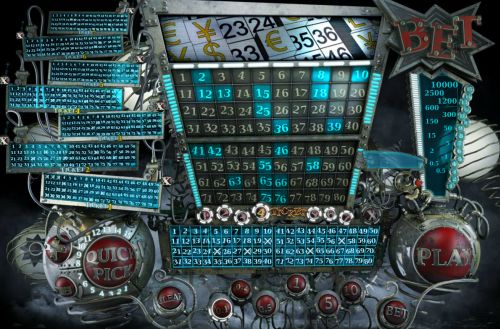 Where to Play Power Keno:
WinADay Casino offers this game where you can play for free or with real money and there is no download required you just play using your internet browser.
To play first you must be registered at WINADAY, don't worry it's quick, free and easy, then you will click "Games" which is located in the top left of the options surrounding the WINADAY logo.
Once clicked it will open a screen with all games available at WINADAY and along the top the will be tabs and one will be called "Others" choose that one and it will open up a screen containing 4 games the first listed will be Power Keno choose it and enjoy.
Play Power Keno for Free Now: WinADay Casino
Power Keno Features:
Power Keno is played just like normal Keno just with the ability to bet on up to seven cards using unique numbers on each card. It has all the standard features you would expect from Keno below I've listed some of the more important ones:
Clear: If you want to select new numbers just press clear and it resets selected ticket quickly
Tickets Overview: Located to the left of the game board this helps to quickly activate and deactivate tickets
Quick Pick: Selecting this has the computer randomly generate numbers for you. To the left of this button are a Plus button and Minus button allowing you to determine how many number are randomly picked from 1 number to 15 numbers
Auto Play Mode: Choosing this has the computer play rounds for you the options are: 5 rounds, 10 rounds, 25 rounds, 50 rounds or 100 rounds
View Payoff Chart: A quick way to see what you can and will win based on how many numbers you play and how many you catch
Power Keno Rules:
Power Keno has the same rules as normal keno with a few major exceptions that change the game in a major way. You MUST play at least two cards, it is Multi card Keno. You must place the exact same wager on each card so if you are playing 5 cards and are willing to place a $5.00 wager on any ticket then you MUST bet $5.00 on each ticket you playing.
So start by choosing ticket number 1 and choose you numbers, you can choose any amount of numbers from 1 number to 15 numbers. Next select ticket number 2 and choose the numbers you would like to play, you can choose the same numbers as card number 1 or choose completely different numbers if you would like and you can have different amounts of numbers on each card so if you choose 15 numbers on card number 1 you could only choose 1 number for ticket number 2 if you wanted to.
Repeat the same process for each card you would like to play and when finished you're ready to determine how much you would like to bet, keeping in mind you HAVE to bet the same amount on each ticket played. You can bet $0.10, $0.20, $0.50, $1.00, $5.00 or $10.00 you can choose by clicking directly on the amount or by clicking the "Bet" button which will scroll along the betting amounts stopping when your determined amount is highlighted.
Now you're ready to start so click on the large "Play" button located to the bottom right of the screen. After the winning numbers are shown you win for the amount of numbers matched for each ticket, so realistically you have the chance to win up to 7 times per round.
Power Keno Review:
This game looks great, sounds amazing, it's quick and easy to play plus it gives you up to 7 times the chances of winning this game really is awesome. The added number of cards just heightens the excitement level of an already exciting game and gives you a better chance of winning. So head over to WinADay Casino and see for yourself.
Our Most Popular Keno Casinos for United States: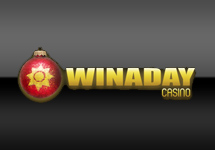 "WinADay Casino is the home of "Power Keno', the most populer online casino game with 7 Cards of Keno at once!"