MultiCardKeno.com » Keno Games »
Klub Keno

What is Klub Keno
Klub Keno is a simple and fun game of Keno that is a blast to play and can be enjoyed at VideoSlots.com (Doesn't accept Americans; play Power Keno at WinADay instead..
Even though the game is basic and the features are few and far between, there is still a chance to win some huge money.
This version of Keno uses only 40 numbers and you can pick anywhere from 3 numbers up to 10 numbers. There is a StarBall that will land on the board and if it lands on a number you have bet on then you will win 2 X the payout
$0.02, $0.05, $0.10, $0.25, $0.50 and $1.00 are the betting amounts for this game. Not good for the high rollers but all other players will be able to find an amount they are comfortable with wagering
Where to Play Klub Keno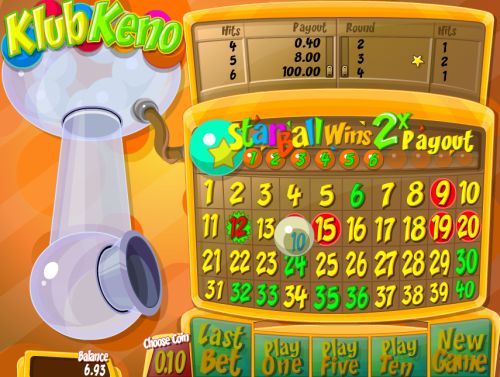 VideoSlots.com (Doesn't accept Americans; play Power Keno at WinADay instead. is the place to go to play this fun version of Keno. VideoSlots is a browser based online casino that will work on any internet browser. Although they don't offer players a downloadable version of their casino, you will be surprised at just how well this Casino runs.
As always you will need to first register an account with VideoSlots to be able to play any of their amazing list of games. After completing this quick and easy process be sure to check out their sign up bonuses before proceeding as there are some really great ones to take advantage of.
Once registered you are now ready to play Klub Keno. The quickest and easiest way to located Klub Keno is to use the Search bar located along the top left of the main screen of the Casino. By typing Keno into the search bar all of the 7 different versions of Keno available here will now be listed so simply click on Klub Keno and away you go.
Klub Keno Features
Not many features are to be had in Klub Keno but there are still a few that help to speed up the game and keep up the level of fun that this game has plenty of.
StarBall – A chance to win 2 X the original payout should the StarBall land on one of the numbers you bet on
40 Numbers – By using half of the normal 8 numbers your winning chances are increased
Last Bet – Repeat the last bet you just made including all numbers and wager amount
Auto Play – Have the game run through 5 or 10 games in a row for you using the same wager amount and numbers
Simple To Play – Fewer features mean this game is a great option for all players but mainly new player and players who don't like all the shiny things that some Keno games offer
Klub Keno Rules
Nothing new to report here so if you know how to play Keno than you will have zero problems playing Klub Keno.
Choose your wager amount by clicking on the dollar amount until you find the amount you are willing to bet. To choose you numbers just click directly on them.
To autoplay 5 or 10 rounds, choose your wager and numbers then select the Play 5 or Play 10 options below the game board.
To win the StarBall 2 X payout all you need to do is play as you normally would and if the StarBall lands on one of your numbers that you bet on then you win 2X the Payout
Klub Keno Review
This is a great mini version of Keno thanks to the amount of numbers being cut in half. This is one of the more fun versions of Keno that you can play.
The StarBall gives payers a chance at winning some huge money for just playing the game you would on any other version.
This is a game that all Keno players should try. If you are already going to playing Keno then why not play a version that is going to give you 2 X the normal payout just because.
If you like winning 2 X the amount of money then by all means head to VideoSlots.com (Doesn't accept Americans; play Power Keno at WinADay instead..
Our Most Popular Keno Casinos for United States: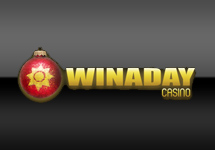 "WinADay Casino is the home of "Power Keno', the most populer online casino game with 7 Cards of Keno at once!"