MultiCardKeno.com » Keno Games »
Keno TV Show

What is Keno TV Show
This may be the craziest version of Keno you will ever play thanks to the games premise alone. Keno TV Show is available at a few great online casinos.
It is you sitting watching Keno on TV with your game card in front of you. Your remote control is where all of your options are located and the TV screen works as the Keno board. The winning numbers are announced by the on screen TV show host. This game is a fun and funny version of the game of Keno and is very memorable even if you don't like it.
This is an instant version of Keno as all of the games at VideoSlots are but download fans need not worry as all of the many games at VideoSlots work amazing and will have you blown away with how fast they run. The Graphics and sound effects in Keno TV show are funny and great.
A great place to play Keno games online is GG Poker, who offer sports, casino and of course poker. Just be sure to get the Best GG Poker betting code prior to signing up, so you get the best bang for your buck in terms of the deposit bonus.
Where to Play Keno TV Show
This is just one of the many great Keno games available here, but VideoSlots.com (Doesn't accept Americans; play Power Keno at WinADay instead. seems to knock it out of the park with each and every Keno game they offer and Keno TV show is no different
First you will need an account with VideoSlots, which is a painless and quick process, then you should bookmark VideoSlots as you will be going back here often for the incredible Keno games offered. After registering an account and claiming one of the signup bonuses you are ready.
Along the left side of the main screen at VideoSlots you will see the games broken down into categories and you will find keno listed under the Other Games option. Once in there you are now able to browse all of the Keno games but for instant access you can use the search bar located on top of the game categories and type Keno TV Show and BOOM there it is.
Keno TV Show Features
The main feature of this game is obviously the fact that you are playing along with a TV show so the features are limited in this version. But they still offer a few solid features and below we will go over a few of them.
Auto Play

– Have the game play through 1, 5 or 10 games in a row using the dame wager and numbers

Quick Pick

– have the game randomly pick 10 numbers for you. You can lower the amount of numbers chosen by pressing the minus button on the remote

Game History

– along the "dials" of the TV screen you will see a round by round breakdown

80's Game Show Feel

– Everything from the host and his terrible suit to the cheesy music screams 80's. It really is a humorous take on Keno
TV Show Keno Rules
All of the games at VideoSlots.com (Doesn't accept Americans; play Power Keno at WinADay instead. are great at using the imagination and this version is no different. This is the weirdest version you may ever find but don't be afraid, its very easy to understand and play.
To select a number all you need to do is click directly on it. You can choose 2 numbers or any amount up to 10 numbers. To change the wager amount you can press the plus or minus signs on either side of the Coin Value section of the remote controller.
Autoplay is available and accessed by selecting a number; 1, 5, or 10 below the Coin Value option. Pressing any of the 3 buttons will have the game play through the select number of games using the same wager amount and numbers
To use the Quick Pick feature simply press the blue button and you can change he amount of numbers randomly picked for you by press the minus and plus buttons located below and to the left and right of the blue Quick Pick button
Keno TV Show Review
Overall this is a great idea for a Keno game and one that you will have to see and try to believe. I personally think it's a fun version of Keno but could see how some people may not like it.
For people looking for a more traditional version of Keno, there are plenty of options at VideoSlots for you. But for people who would like to try something completely different then you must give this game a try.
At first the music adds a fun element to the game but after playing for a while you will become annoyed by it so be sure to have the volume controls at the ready. Again I think that nybody who likes to play Keno should t least give this game 10 minutes of your time like I said before even if you don't' end up liking this game, you will remember it.
Head to VideoSlots.com (Doesn't accept Americans; play Power Keno at WinADay instead. and get ready to be taken back to the 80's when you play Keno TV Show.
Our Most Popular Keno Casinos for United States: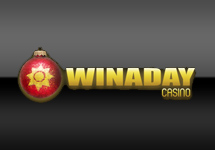 "WinADay Casino is the home of "Power Keno', the most populer online casino game with 7 Cards of Keno at once!"