MultiCardKeno.com » Keno Games »
Prairie Thunder Keno

Prairie Thunder Keno is a grassland ecosystem-inspired May 2014 game developed by Grand Vision Gaming alongside Aristocrat Gaming. Themes: wild horses, wolves, weather phenomenon, and musical scale.
Prairie Thunder Keno Game Characteristics
Prairie Thunder Keno has: 24 lowly bets; huge payouts; and two bonus games, with three win multipliers and two sets of (additional) free games.
Golden numbers 1-80 are embedded on Prairie Thunder Keno's gray-framed and brown-celled game board whose North American setting is evident in the surrounding green grassland and distantly Rocky Mountains atop the board.
Prairie Thunder Keno's six coins: 1X, 2X, 3X, 4X, 5X, and 10X. The four Prairie Thunder Keno denominations: $0.01, $0.05, $0.10, and $0.25. Mobile version: click the three-dot button at bottom right to access the sliders for adjusting coins and denominations.
Desktop version: click the " denom " and "bet" buttons below. Below are Prairie Thunder Keno's total bets (coins X dominations).
Bet 1X: $0.01 (minimum total bet), $0.05, $0.10, and $0.25.
Bet 2X: $0.02, $0.10, $0.20, and $0.50.
Bet 3X: $0.03, $0.15, $0.30, and $0.75.
Bet 4X: $0.04, $0.20, $0.40, and $1.00.
Bet 5X: $0.05, $0.25, $0.50, and $1.25.
Bet 10X: $0.10, $0.50, $1.00, and $2.50 (maximum total bet).
While marking the necessary Prairie Thunder Keno's three and up to ten spots, the tapped cells turn into red-and-black "X". The "pick" button (mobile: bottom right; desktop: bottom center) can be used to randomly mark numbers.
Two gray wolves and five gray horseshoes are scattered on the board after starting a round whose 20 drawn numbers: blacken the grid's non-winning cells, make the hit horseshoes golden, highlight the hit wolves, and transform the hit "X" picks into a herd of three horses that offer these Prairie Thunder Keno payouts—showed at top right.
Three selections: two hits offer X2; and three hits offer X15.
Four marked spots: two hits offer X1; three hits offer X4; and four hits offer X36.
Five selections: three hits pay X3; four hits offer X10; and five hits offer X216.
Six selections: three hits offer X2; four hits offer X4; five hits offer X23; and six hits offer X505.
Seven selections: three hits offer X1; four matches offer X3; five matches offer X8; six hits offer X110; and seven hits offer X1200.
Eight selections: four hits offer X3; five hits offer X6; six hits offer X32; seven hits offer X465; and eight hits offer X3000.
Nine selections: four hits offer X2; five hits offer X3; six hits offer X14; seven hits offer X126; eight hits offer X1000; and nine hits offer X6000.
Ten selections: four hits offer X1; five hits offer X3; six hits offer X7; seven hits offer X50; eight hits offer X350; nine hits offer X1600; and ten hits pay X10000.
If two drawn numbers land: on the two wolves, X4 win multiplier is offered; on four horseshoes, it prompts 10 free games; and on five horseshoes, it prompts 15 free games—horseshoe hits displayed at the planks at the left. The extra games during the free games mode are: four more free games for hitting three extra horseshoes; 10 more free games for hitting four extra horseshoes; and 15 more free games for matching five extra horseshoes.
Also, four snowy summits—replace the wolves—accompany the board's five horseshoes during the free games. Hitting the summits offers random X2, X3, or X4 win multipliers, where a round's cumulative multipliers are capped at X256. Thus, Prairie Thunder Keno's theoretical maximum win (10000X2.50X256) is $6400000.00.
Prairie Thunder Keno has advanced software. Features: "clear", bet "max" X10, pink semicircular start, and "autodraw" with off/10/25/50/100/200/500 (slider in mobile and batches in desktop) autoplay rounds; pop-ups; pink wins counter; ten-page "i" user guide; and five-speed ">" (desktop) and speed in milliseconds (game settings: 500/400/300/150/100 slider) in mobile devices.
Sound effects: exclamation, reverberation, thunder, neigh, clop, and tonal scale. Animated 3D graphics: glittering, spinning horseshoes, falling gems and golden coins, and horses fleeing from lightning bolts during a thunderstorm.
Luck in Prairie Thunder Keno
Luck influences Prairie Thunder Keno's wins. The percentage distribution in win multipliers: 73-77% for X2; 13-17% for X3; and 10% for X4. RTP rate: 91.83%. House edge: 8.17%.
Our Most Popular Keno Casinos for United States: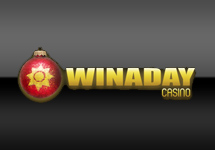 "WinADay Casino is the home of "Power Keno', the most populer online casino game with 7 Cards of Keno at once!"