MultiCardKeno.com » Keno Games » Fortune Keno
Fortune Keno

What is Fortune Keno:
Fortune Keno Is Keno with a gypsy vibe. To the left of the numbers sits a fortune teller holding a crystal ball and once you have selected your numbers and are ready to play the fortune teller will rub her crystal ball and it begins to glow revealing the numbers spinning around inside and eventually they shoot out of the ball on to the board hopefully landing on the numbers you have chosen. The game features great graphics, soothing music and it's incredibly easy to pick up and play.
Where to Play Fortune Keno:
Fortune Keno is available to play at Titan Casino (Doesn't accept Americans; play Power Keno at WinADay instead.) both for free and for real money. There are other casinos you can play Fortune Keno but Titan Casino is the best one by far.
Here is a screenshot of Fortune Keno in action: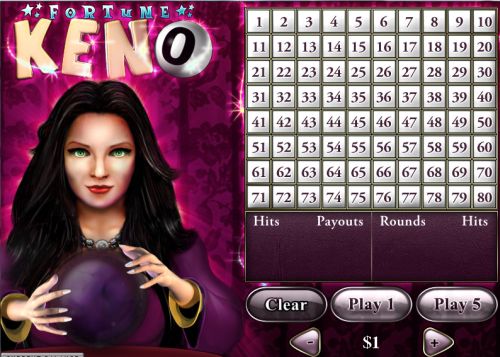 After registering at Titan (quick, easy and free) you will see at the top of the screen a tab titled" download ". After running the prompt you will open after clicking it, it will begin downloading the Titan Casino software allowing you to play at Titan just by clicking on their icon on your desktop.
Once the software is downloaded open Titan and you will be asked if you want to play for free or play for real money and after you have made your decision its time to play. Along the left side of the screen will be a list of the different game types and you will be clicking on the one titled "Arcade Games" opening up the list of available games to play that fall under that category.
You can scroll or sort through the games until you find it or on the left side of the screen is a tab titled "Keno & Number" and select Fortune Keno from that list.
Fortune Keno Features:
Besides it being quick, easy and visually appealing, the game has some really cool features worth mentioning.
Simple to Play: Just click on the numbers you wish to play, from 2 numbers up to ten numbers, on the board of numbers 1-80 and then press play
Play Once: Play only one hand with you selected numbers
Play Five: Play five games continuously one after the other with the same selected numbers
Quick Wager Select: Arrows to quickly select or change your wager-$0.25, $0.50, $1.00, $2.00, $5.00
Nice Win Notification: You'll know when and exactly what you have won when it happens because a box appears after the win every time notifying you exactly how many numbers you caught and how much you won
Clear: If you want to select new numbers just press clear and it resets the board quickly
Fortune Keno Rules
Pretty much just standard rules of Keno for this game; choose your numbers – you can choose a minimum of 2 numbers up to a maximum of 10 numbers from the board of available numbers 1-80, when ready choose play one to play one game or play five to play five games in a row with the same numbers and after the twenty numbers are shot out of the crystal ball you will be paid accordingly for the amount of numbers you caught
Fortune Keno Review:
Overall Fortune Keno is great game for all Keno players from rookies to vets and it offers just enough bells and whistles to keep all players happy and interested while playing. Its simplicity won't overwhelm you yet will keep you glued to your seat with the excitement of Keno. When you combine all the things I've listed above with the excitement and playability of Keno you'll really love this version and will continue to come back to play it again and again. So good luck and go make some money – I can see it in your future!!! Visit Titan Casino (Doesn't accept Americans; play Power Keno at WinADay instead.)