MultiCardKeno.com » Keno Games »
What is Redneck Keno?

Redneck Keno is one of the many variants of regular Keno. This fun variation is found on U1 Gaming's multi-game machines which can be found in many places all over Las Vegas. You can also play this version online right in the comfort of your own home if the casino sight you sign up with offers that as a variation choice.
In Redneck Keno there are horseshoes instead of balls. The 20 horseshoes are broken down into 12 silver horse shoes and 8 gold horseshoes every single time a game is played. There will always be 12 silver horseshoes and 8 gold.Players can win money three ways:
· The number of silver horseshoes that match the player's choices
· The number of gold horseshoes that match the player's choices
· Combined matches
The rules are very simple. You will choose 2 to 10 numbers that range from 1 to 80. The game chooses 20 numbers, also from 1 to 80. Out of these 20 numbers, 12 of the numbers chosen will be represented by silver horseshoes and 8 of them will be gold horseshoes. When the game chooses the first two numbers, one will be a gold horseshoe and the other will be a silver horseshoe. There are several ways that a player can win. We'll explain these three ways below.
· First way to win – The first way to win will be based on the number of combined catches you have between the gold and silver horseshoes, providing you have at least one of each color.
· Second way to win – The next way players can win is to count the number of silver horseshoe catches only.
· Third way to win – This way to win is determined by the number of gold horseshoe catches only.
If you're interested in playing Redneck Keno online, follow the steps below to get started. It's an easy-to-play game that doesn't require a large amount of money to play.
1. Sign up to the online casino of your choice that offers this variant of Keno. Just because the site offers regular Keno does not mean it will offer Redneck Keno, so check before you sign up to ensure you will be able to play. Once you're signed up, choose the correct version and get ready to have some fun.
2. Choose your numbers. These can be any numbers from one to 80 and you can choose as little as one number or as many as 20 numbers. Go with your gut and don't over think these choices. This is supposed to be FUN!
3. Place the bets on each number you choose and will more than likely be placing the same bet on all the choices you have made. Once you have placed your bets and hit play you can't go back and change anything so take your time.
4. Now is the fun part of waiting for the results. The numbers that will hit will be completely random and have been drawn by the game's random number generator. All numbers drawn will be be indicated in silver and gold horseshoes and the payouts will be alongside so you can see what, if anything, you have won right away.
5. Collect any winnings you have made. This process will be different for each online casino site so you will just need to follow the withdrawal/claim rules for that site.
Our Most Popular Keno Casinos for United States: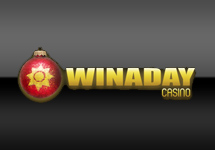 "WinADay Casino is the home of "Power Keno', the most populer online casino game with 7 Cards of Keno at once!"