MultiCardKeno.com » Keno Games »
Keno Neon

Keno Neon was released in July 2018 by Triple Profits Games. Its themes are prism, plasma waves, neon, space warfare, and retro space art.
Keno Neon Game Characteristics
The game's downloading and joining steps precede Keno Neon's cyan-framed purple game board, which is set atop purple prisms on a midnight blue background. Set using the orange icons below the grid; Keno Neon has these bets: $0.10, $0.20, $0.40, $1.00, $2.00, $4.00, $10.00, $20.00, and $40.00.
The Keno Neon has 80 black-and-white numbers, offering numerous options for the player's two to ten selections, where the only way to pick them is by tapping the board. The picks, whose quantity is displayed under the "marked" counter", are encircled in cyan.
There are three ways of canceling selections: by de-selecting the pick; by pressing the blue "undo" icon; or by clicking the green "clear" icon. Afterwards, the player presses the enabled orange "play one" or "play five" to start playing.
The draw feature at the left draws the twenty winning numbers that redden their respective cells on the board; the matching selections turn into lime green cells. After drawing the regular numbers, the bonus round may be triggered and therefore the possibility of drawing five additional numbers that boost winning chances.
The cyan table at the right shows these Keno Neon's fixed odds whose payouts change depending with the amount of selections.
Two picks: one hit pays X1; and two hits pay X8.
Three picks: two hits pay X3; and three hits pay X30.
Four picks: two hits pay X2; three hits pay X5; and four hits pay X70.
Five picks: three hits pay X3; four hits pay X7; and five hits pay X800.
Six picks: three hits pay X2; four hits pay X8; five hits pay X55; and six hits pay X1500.
Seven picks: three hits pay X1; four hits pay X2; five hits pay X25; six hits pay X320; and seven hits X5000.
Eight picks: four hits pay X2; five hits pay X10; six hits pay X100; seven hits X1500; and eight hits pay X8000.
Nine picks: four hits pay X1; five hits pay X5; six hits pay X50; seven hits X300; eight hits pay X3000; and nine hits pay X10000.
Ten picks: five hits pay X5; six hits pay X25; seven hits X90; eight hits pay X1000; nine hits pay X3800; and ten hits pay X10000. Keno Neon's non-progressive win (40X10000) is $400000.00.
The colorful Keno Neon software has these features: supports desktop and mobile devices (landscape mode only); full screen; simple interface; on/off sounds; marked picks, hit and win counters; activatable icons; five auto play rounds; and two-page info.
Ambient background: space music. Sound effects: chink, ring, rewind, cartoon sounds, space gunshots, and bleeps. Animated 3D graphics: gushing precious coins during the super wins, glittering, diverging yellow ammunition, green bullets, blinking and levitating astronaut wielding a space gun, orbiting bubbles, and spinning plasma waves.
Luck in Keno Neon
Keno Neon is a game of chance whose RTP rate and house edge are unspecified.
Our Most Popular Keno Casinos for United States: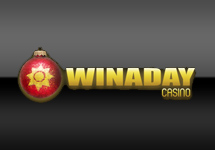 "WinADay Casino is the home of "Power Keno', the most populer online casino game with 7 Cards of Keno at once!"