MultiCardKeno.com » Keno Games »
Top 10 Reasons to Choose FreeslotsHUB for Playing Online Slots

I'm a big fan of the websites out there that allow you to play slots for free online. I've been using these sites since the early 2000s, back when Casino Lemonade was the first real website to do this to a professional degree.
Sometimes I just like to kick back and play some slots with no real money on the go. It gives me a chance to explore different slots and can be a fun way to kill some time.
I've recently started playing at FreeSlotsHUB and have been very impressed with it. I had tried a few other websites and really wasn't that impressed with them. I wanted to write a quick article listing 10 reasons why you should play free slots online at FreeSlotsHub as I really appreciate what they are doing for us players.
#1: No Pressure
One of the problems I find with a lot of these types of sites – as well as apps that you can download on your mobile phone – is that they try to pressure you to play for real money.
Before you have even started playing, you're being harassed to sign up at various online casinos. Then every few spins, you have to wait to see an ad prior to being able to spin again.
FreeSlotsHub doesn't have that at all. You're able to play each slot game right away, with no hassles. As someone who uses these sites just for a quick time killer – that is much appreciated, and one of the main reasons I use FreeSlotsHub.
#2: If I Do Want to Play for Real Money….
…then all of the information I need is right there in front of me.
All I have to do is scroll down and I will be greeted with a list of online casinos that this particular slot is at. I don't have to do any research or jump through various banner ads.
There is a featured online casino that is recommended to play at, but then all of the other casinos listed also state what their deposit is for slots players which is very convenient.
#3: Information on the Slot
I'm a very detail-oriented person. I like information on what I am doing. One thing I love is the comprehensive guides to each slot.
There is an extremely though review and guide to each slot machine. Each one is easily over 1000 words long. It goes into detail in regard to the slot, the software provider and the theme. There are also tips and strategies for each slot, as well as a breakdown of how the bonus rounds or free spins work.
#4: Slot Fact Sheets
Of course, sometimes I want a tl;dr version and that's another thing that FreeSlotsHub offers. They have fact sheets for all of the slot machines which list all of the crucial data such as whether there is a wild symbol, bonus rounds, multipliers, or a progressive jackpot.
I love that this information is quickly handed to me so that if I am browsing through their slots, I can decide whether or not I want to play that particular slot immediately. I don't have to read a lot of words while avoiding banner ads just to learn that it doesn't have features that I like.
#5: Everything Works!
One issue I have found with a lot of these free slot websites is that many of them are outdated or offer slot machines that won't work in my region.
I've not once had an issue at FreeSlotsHub where a slot machine didn't work due to a technical or geographic error. Every slot I have played so far has worked perfectly.
#6: Multiple Providers
One nice thing about FreeSlotsHUB is I can get slot machines from a variety of different software providers, all in one place. They have slots from a variety of different providers such as Microgaming, EGT, and Playtech. I can also click on any of those software providers, and it will give me a list of all of the slot machines that are available to be played from that provider.
#7: User Ratings
User ratings are a popular feature on various websites all over the web, but I've found it lacking somewhat when it comes to free slots websites.
FreeSlotsHub allows users to rate a particular slot machine out of five stars. This then powers the rest of the website by listing the most popular slots on the site, and the most popular slots by the provider. If I am a fan of Konami slots for example, then I can immediately click the Konami link and see the most popular slots to help me decide what to play.
#8: Offline Slots
This is a bit of a rarity and something I just used this week – one of the motivations for writing this article actually.
They have a section called Offline Slots. These are slot machines that you can play offline. You just have to load them up once, while online.
I'm out at my cottage this week and the internet is very poor here. However, I can still get my slots fix no problem. I hotspot with my phone to connect to one of their offline slots, then I can disconnect and play to my heart's content. very cool!
#9: Quantity of Games
Freeslotshub offers over 2000 slots to play online for free which is very impressive. There is such a great variety of slots available and I find myself able to play slots of every different type of theme.
It's fun being able to jump from Wheel of Fortune to Amazon Queen to Irish Luck all at a moments notice, without having to mess around.
#10: Clean Design
Last but certainly not least – I really appreciate the clean design of this website. It's a no-nonsense type of site. Like I said they don't try and harass you to play for real money. If you do want to, they make it easy for you with a list of recommended casinos per slot.
However, I have sat playing various slots for hours on this website for free, and not once has anything bothered me. The website is fast, the navigation is excellent, and I highly recommend FreeSlotsHub for playing slots for free online.
Our Most Popular Keno Casinos for United States: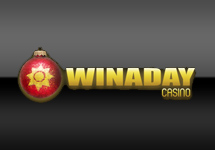 "WinADay Casino is the home of "Power Keno', the most populer online casino game with 7 Cards of Keno at once!"