MultiCardKeno.com » Keno Games »
Keno 101

What Is Keno 101
Keno 101 is a simple and basic single card version of Keno. This version of Keno looks exactly like a Keno card that you would fill out while play Keno at a real Casino. The layout for this game will appeal to players new to the game of Keno. But don't let the simplicity of Keno 101 fool you. This is a great game not only for rookies but also for seasoned Keno players.
Where To Play Keno 101
To play this simple yet exciting and realistic version of Keno you will first have to go to WinADay Casino. Using Slotland Software to ensure a fast and reliable Keno experience for both the download and non-downloaded version of this casino.
WINADAY offers plenty of no download options and lots of promotional bonuses as well as a large number of deposit and withdraw options.
Once there you will need to register an account which is free and easy. The next step is to choose the "Table Games" option from the list of different types of games. Once in the Table Games section click on Keno 101, the first game listed, and you are ready to get playing.
Screen Shot of Keno 101 at WINADAY Casino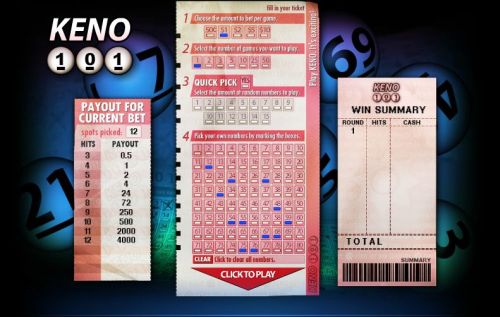 Keno 101 Features
In addition to being one of the most simple versions I have found to play Keno, Keno 101 also gives players one of the more authentic games around.
Amazingly simple yet polished layout
Table Limits Of $0.50, $1.00, $2.00, $5.00 and $10.00
Incredibly Realistic Looking Game
Betting Payout Chart
10 Round Breakdown
Quick Pick: Allows Users to have numbers randomly selected for them. You can choose to have one number chosen or any number up to 15 numbers
Auto Play: Player can have the game play consecutive rounds using original wager and numbers. You can choose to play 1, 2, 3, 5, 10, 25, or 50 rounds in row allowing you to sit back and watch as the winnings pile up
Clear: Use this to erase numbers and reset your starting wager.
Rules For Keno 101
Same rules apply to Keno 101 as they do for all versions of Single Card Keno. But if you would like a run down then please read on.
First step is to decide how much you are comfortable with wagering. Keno 101 has a decent set of table limits available so it will appeal to most if not all Keno players. $0.50, $1.00, $2.00, $5.00 and $10.00 are your betting limit options.
The next step is to figure out which and how many numbers you would like to play. As with all Keno games, the more numbers you pick, and the more numbers you match means you win more if you match more numbers.
You can choose 1 number or any amount of numbers up to 15 numbers. You can also let the game randomly choose any amount of numbers you would like by choosing the number in under the "Quick Pick" option
When ready you click on the "Click To Play" button at the bottom of the Keno 101 card and the numbers will be drawn. The more you match the more you win. Another cool feature with Keno 101 is the ability to have the game run through numerous games in a row with the same wager amount and number. You can have it play 1, 2, 3, 5, 10, 25, or 50 rounds in row. This is great feature that not only saves time but after you play that many games in a row it is amazing to see how quickly your winnings pile up.
To the left of the Keno 101 ticket is a breakdown of the numbers you play. It shows you how much you can potentially win if you were to hit the numbers you have chosen.
To the right of the Keno 101 ticket is a round by round breakdown. This is helpful if you were to have the game run through many games in a row showing you how much you won per round and how may numbers you caught each round
Keno 101 Review
I personally really enjoy Keno 101 at WINADAY Casino. It doesn't have a high roller limit set but still offers the player a good amount of money to be won. I also like the option to have it Auto Play up to 50 games in a row. Choose your numbers and walk away to tend to something only to come back and have made a small fortune.
And the layout of this version is awesome. It looks and feels like the real thing. For players who like a game with lots of bells and whistles this version isn't for you.
But if you are a player who likes to just play Keno and could care less about flashy effects then give this a try. Head on over to WinADay Casino.
Our Most Popular Keno Casinos for United States: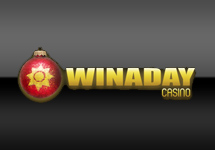 "WinADay Casino is the home of "Power Keno', the most populer online casino game with 7 Cards of Keno at once!"