MultiCardKeno.com » Keno Games »
Traditional Keno

What is Traditional Keno
Traditional Keno is a great version of 80 ball Keno that may be best suited for players who are new to the game or for players who don't like or want all of the fancy bells and whistles that other version of Keno offer.
This Version of Keno looks fantastic and runs fast and lag free. It is set like you're in some ones living room complete with the game being in the middle of a couple of plants and in front of a curtain.
A nice a basic version of Keno that all players will be able to enjoy no matter the skill level or experience. Includes a round breakdown and a potential win chart
Where to Play Traditional Keno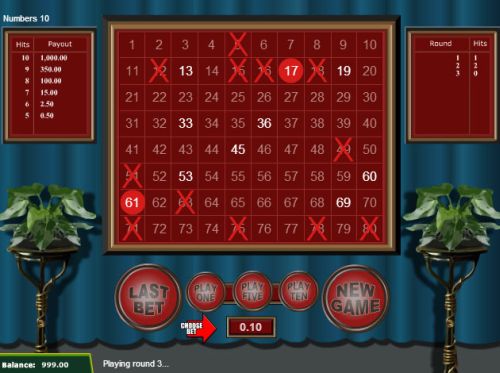 You can play Traditional Keno by heading to VideoSlots.com (Doesn't accept Americans; play Power Keno at WinADay instead. where in addition to 7 amazing versions of Keno they also have a crazy number of available games for players to play.
Video Slots is a great Browser based Casino that will run on every browser out there.
Once you arrive at VideoSlots.com (Doesn't accept Americans; play Power Keno at WinADay instead. you will need to first register an account with them, which is a free and quick process. After you have finished you will now be at the main screen of Video Slots Casino. You will see on the left of the screen all of the games are broken down into categories. The Keno games are listed under the Other Games menu option.
Once in the Other games list you can find Traditional Keno in one of two ways; you can scroll through the games until you find Traditional Keno of you can use the available search bar located on top of the game list on the left of the screen. By typing in " Keno " into the search bar, all of the Keno games at Video Slots will come up including Traditional Keno
Traditional Keno Features
This is a nice and basic version of Keno that looks great and runs even better. Here is a list of some of the features available in Traditional Keno at VideoSlots.com (Doesn't accept Americans; play Power Keno at WinADay instead.
Easy To Play – Simply click on the number or numbers you would like to play
Good Betting Limits – Players can wager $0.02, $0.05, $0.10, $0.25, $0.50 and $1.00
Last Bet – Repeat previous bet including wager and numbers.
Auto Play – Phave the game run through one, five or ten games in a row using the same numbers a wager
Traditional Keno Rules
All of the standard rules for Keno are used here. You can choose any number of numbers from three numbers up to ten numbers. Choose your numbers by clicking directly on the number, it will be highlighted in white once it is selected.
Choose your wager amount by clicking on the Wager listed below the Auto Play options. When ready decide if you want to play one, 5 or 10 games by choosing the appropriate button.
Matched numbers will be marked with a red dot while missed numbers will be marked on the board with a red X
Traditional Keno Review
A great and simple version of Keno that players new to the game will appreciate as it lets them play just the game with no distractions. The game itself runs incredibly fast and smooth. Even though it is a basic version it still has the always nice Auto Play feature and also Last Bet. Both of these features allow you to play games faster.
This version of Keno may not appeal to players who are familiar with the game or who have come to expect lots of special features.
But if you are looking for a nice and straightforward version of Keno then be sure to head to VideoSlots.com (Doesn't accept Americans; play Power Keno at WinADay instead. and give Traditional Keno a try
Our Most Popular Keno Casinos for United States: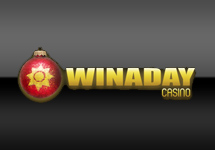 "WinADay Casino is the home of "Power Keno', the most populer online casino game with 7 Cards of Keno at once!"