MultiCardKeno.com » Keno Games »
Keno Kickers

Keno Kickers was released on March 1, 2019, by games developer Inbet Games. Keno T+ (February 2018), Turbo Keno (July 2017), Keno Night, Keno Live (May 2018), Disco Keno (February 2019), XKeno (March 2018), Keno Neon (2018), and Irish Story Keno are other suchlike games from the developer.
Keno Kickers Game Characteristics
Keno Kickers—modeled on Irish Story Keno—is set on a striped purple-and-blue background. The central burgundy-framed 80-number game board has blue cells, with numbers 1-40 detached from numbers 41-80.
The desired Keno Kickers numbers are clicked singly, but the "quick pick" button—one random pick per click—is a convenient way of choosing numbers randomly. A red prompt—between the game board— urges players to pick 3-10 numbers prior to clicking the purple "start" icon at bottom right.
The ten Keno Kickers bet sizes: $10 (minimum bet), $20, $50, $100, $200, $500, $1000, $2000, $5000, and $10000 (maximum bet).
The 20 purple drawn balls—stacked beside the board—may match with the yellow-turned-red selections, triggering these payouts.
Three picks: two hits pay X2; and three hits pay X20.
Four hits: two hits pay X1; three hits pay X5; and four hits pay X30.
Five picks: no pay for two matches; three matches pay X3.5; four matches pay X8; and five hits pay X50.
Six selections: no pay for two hits; three hits pay X1.5; four hits pay X6; five hits pay X40; and six hits pay X150.
Seven picks: nothing for two hits; three matches pay X1; four matches pay X5; five matches pay X7; six hits pay X75; and seven hits pay X250.
Eight picks: no pay for two hits; three hits pay X1; four hits pay X4; five hits pay X10; six hits pay X50; seven hits pay X100; and eight hits pay X500.
Nine picks: no pay for two hits, or three hits; four hits pay X1; five hits pay X4; six hits pay X12; seven hits pay X100; eight hits pay X500; and nine hits pay X1000.
Ten picks: two hits, or three hits do not pay; four hits pay X1; five hits pay X4; six hits pay X9; seven hits pay X20; eight hits pay X100; nine hits pay X500; and ten hits pay X1000.
The spinning ball atop the stacked balls is drawn last, and it can match with a selected number, therefore prompting the partly visible wheel of fortune at top right to pop-up at the center. The wheel's segments show Keno Kickers' twelve alternating win multipliers—five X2, three X3, two X4, and two X5.
Keno Kickers' highest payout—$1000 bet, X10000 bet multiplier, and X5 win multiplier—is $50000000.00.
The Keno Kickers supports mobile (landscape only) devices and desktops. There are classic sounds. Animated 3D graphics: spinning polygonal ball, tumbling and flashing balls, and a diverging background.
Luck in Keno Kickers
Keno Kickers is a game of chance whose RTP rates depend with the picks. For example, one pick has a lowly 75.00% RTP rate, while two picks have a highly RTP rate of 98.10%; thus, house edge ranges from 25.00% to 1.90%.
Our Most Popular Keno Casinos for United States: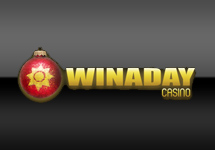 "WinADay Casino is the home of "Power Keno', the most populer online casino game with 7 Cards of Keno at once!"