MultiCardKeno.com » Keno Games »
Amaterasu Keno

Amaterasu Keno is an oriental online game whose developer Mascot Games launched it in December 1, 2019. "Amaterasu" is a Japanese word, referring to the sun goddess whose lineage is associated with the Japanese royal family.
Amaterasu Keno is the first in the Amaterasu gaming line that also contains The Book of Amaterasu (June 2021). Themes: mythology, divinity, and Feng Shui ideology.
Amaterasu Keno Game Characteristics
Amaterasu Keno has six win multipliers, eight bet sizes, and lucky numbers that trigger (extra) free games.
The loading Amaterasu Keno prompts players to play with or without sound. Set in a cherry blossom background, the desktop version's translucent interface has these main sections, from left to right: the drawn numbers; the game board, with white numbers 1-80; and a pay table atop "clear" bets.
Amaterasu Keno is played after a minimum of one selections, which are picked by clicking the board or tapping the "auto pick" icon—or five-pip "R" icon in the mobile version, at bottom left—that randomly picks ten numbers. The total selections, which turn into purple balls, are showed in "numbers" section, on bottom left.
Amaterasu Keno's bet sizes: $0.20 (minimum bet), $0.50, $1.00, $2.00, $5.00, $10.00, $20.00, and $50.00 (maximum bet).
Pressing the golden play icon draws 20 numbers—from which the up to ten winning selections are chosen—that are displayed on the left, and also appear as gray balls on the board. Winning selections appear as glittering white-and-purple balls on the board.
The Amaterasu Keno payouts. One selection: one hit pays X3. Two selections: two hits pay X12. Three selections: two hits pay X1; and three hits pay X43. Four selections: two hits pay X1; three hits pay X3; and four hits pay X130.
Five selections: three hits pay X1; four hits pay X10; and five hits pay X800. Six selections: three hits pay X1; four hits pay X4; five hits pay X95; and six hits pay X1500. Seven selections: four hits pay X1; five hits pay X25; six hits pay X350; and seven hits pay X8000.
Eight selections: four hits pay X1; five hits pay X15; six hits pay X100; seven hits pay X1500; and eight hits pay X25000. Nine selections: four hits pay X1; five hits pay X4; six hits pay X50; seven hits pay X280; eight hits pay X4000; and nine hits pay X50000. Ten selections: four hits pay X1; five hits pay X2; six hits pay X25; seven hits pay X150; eight hits pay X1000; nine hits pay X5000; and ten hits pay X100000.
Amaterasu Keno has win multiplier-triggering lucky numbers. The three golden numbers on the board are selected randomly before—and can match with—the drawn numbers. Thereafter, the base game triggers any of the three win multipliers—X1, X3, or X5—which are showed beside the Feng Shui coins.
Five free games—with the possibility of extra free games—are triggered whenever a player's selection matches with the last drawn number. Should any of the board's golden numbers match with a lucky number—displayed in the "last number" section at top left—it triggers X2, X6, or X10 win multipliers.
The base game's maximum wins (50X100000) is $5000000.00. Based on the highest regular game's X5 and free games' X10 win multipliers, the theoretical maximum payouts are $25000000.00 and $50000000.00, respectively.
An otherwise sluggish html5-based platform, the Amaterasu Keno software: has on/off left hand mode; quick spin; full screen option; auto play; and on/off game sounds, including jingling, ding, and oriental sounds. The 3D graphics include glowing and glitter effect.
Luck in Amaterasu Keno
Amaterasu Keno is a game of luck, with an average RTP rate and house edge.
Our Most Popular Keno Casinos for United States: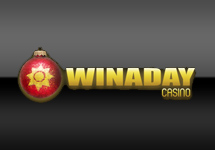 "WinADay Casino is the home of "Power Keno', the most populer online casino game with 7 Cards of Keno at once!"