MultiCardKeno.com » Keno Games »
What is Circus Keno?

If you are an avid machine game player or have even traveled to Las Vegas or Reno, you have probably seen some the Keno machines made by U1 Gaming. They are interesting little machines that focus on multiple small bets but give fun additions to the game that can make it very interesting.
Circus Keno is no different. It is the same game where you pick up to ten numbers between 1 and 80 and let the machine select on random if its numbers will shadow your own, but now with a colorful design and some fun additional features that make the game very addictive.
Rules
As in most Keno games, first, you need to choose between two and ten numbers from the pick of eighty. Newer consoles will allow you to pick any combination of numbers but some older ones, as well as some casinos, will only have them clustered.
This is where the fun begins as the machine will randomly pick six numbers that will represent tents that will give you different bonuses. These bonuses can ramp up and become quite significant in the end game as a poultry win of 2.5$ can become a significant 25$ win if paired with a 10X multiplier.
The base amount you will win depends on how many numbers match between you and the machine. The winning lot is at four numbers, which usually gives you half of your bet, and five numbers give you back what you invested. Jackpots go up to 50.000% on your bet, making a 1$ bet a 5.000$ payout for 10 out of 10 numbers.
And that is just the base amount, with no multipliers.
The bonuses on the left and the right are the most significant, and probably the most entertaining part of the game. In every game, you will be able to win tents, which will give you a multiplier or free spins. If you get the free spins the left and the right side panel will change and give the player different bonuses, one being the multiplier that can range from double to ten times the win, and the other being extra numbers that can be drawn.
Not to go into advanced math, the machine can triple your odds and make your win tenfold in about 2% of games, which is not insignificant.
Tent Bonus
Tents are the other great addition made in Keno Circus. As mentioned, there are six tents in total, separated into three colors, two tents for each color.
Collecting a pair of tents will give you the double multiplier, with each tent from a different color that you win will give you one up. So, for a pair and one other tent it is a 3X multiplier and with a pair and a tent from both other colors, it would be a 4X multiplier.
Having two pairs would give you, aside from a 3X multiplier, four additional spins. Five tents will give you seven spins and a 4X multiplier, and all six tents will give you twenty additional spins over the existing 4X multiplier.
The free spin bonus can go up to 10X and can even give you up to 4 free games with your initial betting amount.
People usually call Circus Keno the Adult's Candy Crush as it is highly addictive. Although, playing Circus Keno doesn't cost as much money.
Our Most Popular Keno Casinos for United States: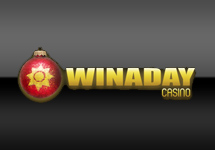 "WinADay Casino is the home of "Power Keno', the most populer online casino game with 7 Cards of Keno at once!"