MultiCardKeno.com » Keno Games » Vegas Jackpot Keno
Vegas Jackpot Keno

Vegas Jackpot Keno
What Is Vegas Jackpot Keno
Vegas Jackpot Casino is a good version of Keno with a few major changes. It looks fairly simple with all the buttons you have come to expect from a game of Keno. It runs great and is very easy to use. The 2 major differences between this version of Keno and others is; The payouts are a lot better and you can win a decent payout for not catching any numbers. And its those two things that make this a pretty amazing version compared to the traditional Keno games.
Where To Play Vegas Jackpot Keno
You can play Vegas Jackpot Keno at Da Vinci's Gold (Doesn't accept Americans; play Power Keno at WinADay instead.). Da Vinci's Gold Casino is a fast and smooth running casino that has a cool medieval times feel to it.
Da Vinci's Gold Casino uses Rival software which is a strong player in the 3D gaming world. They also offer many of the popular options for depositing and withdrawing money and have a strong customer support team available to help you if you should need it. Unfortunately they do not allow players from Canada.
Once you have registered an account your next step is to download the casino. Once you are ready to play Vegas you can find Vegas Jackpot Keno by following these 2 easy steps. First hover your mouse over the "Specialty Games" option located at the bottom left of the screen. Then move mouse over to Vegas Jackpot Casino and choose it to begin playing.
Heres a Screen Shot of Vegas Jackpot Casino: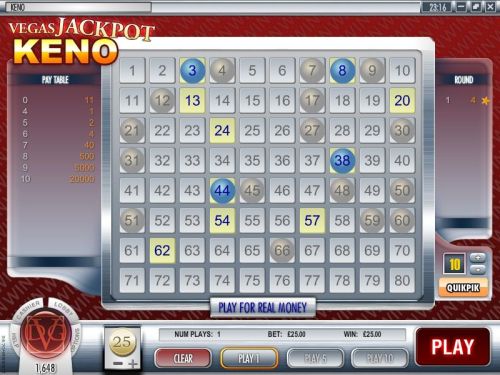 Vegas Jackpot Keno Features
With all the normal features plus a couple different ones that make this a unique version this is a fun option for Keno players
The Potential for Huge Payouts compared to normal Keno
Players can win for matching Zero numbers. Nice perk as we all know that this happens more often then we would like to admit
Play Once: Play one hand of Keno using your selected number or numbers and wager
Play Five: Play five hands of Keno using your selected number or numbers and wager in a row
Play Ten: Play ten hands of Keno in a row using your selected number or numbers and wager
Clear: Clears wager amount and selected numbers allowing players to start a new round
Quik Pick. Allows players to choose between 1 & 10 numbers randomly selected for you.
Pay Table showing potentials wins located to the left of the Keno board
Round Breakdown to the right of the Keno board. Showing what you have one. Also keeps track of rounds should you decide to have it auto play for 5 or 10 rounds
Nice and simple design. Very user friendly
Decent betting limits
Vegas Jackpot Keno Rules
Following the same basic rules of all other version of Keno, Vegas Jackpot Keno is easy to pick up and play.
You first will need to determine what you are comfortable with for your wager. You can bet; $1.00, $2.00, $5.00, $10.00 & $25.00.
After wagering your next step is to choose your number or numbers. Here is another difference that makes Vegas Jackpot Keno Different, you can only choose up to 10 numbers instead of the usual 15. You can check out what you can potentially win by looking at the Payout Table to the left of the Keno board
Now you are ready for your first round of Keno. Start the round by pressing the large red "Play" button in the bottom right of the screen But if you would like to play with the same wager amount and numbers for 5 or 10 consecutive round you can do that by selecting the play five or play 10 options below the Keno board.
After the numbers have been drawn you can see won by looking to the right of the Keno board at the Round breakdown table.
Vegas Jackpot Keno Review
Overall this is a great version of Keno. It runs fast, looks great, is easy to use and offers huge payouts. Plus the chance to win for not catching any numbers at all is a neat addition to the game of Keno. I mean how great is it that you win money for not matching one of the ten numbers that were drawn. For once having bad luck pay off.
If this sound like a version that you would like to try then head to Da Vinci's Gold (Doesn't accept Americans; play Power Keno at WinADay instead.) and give it a try