MultiCardKeno.com » Keno Games »
Burning Keno

Released on August 11, 2021; Burning Keno is a fiery game by EGT Interactive, the developer of Keno Universe (2015). Themes: fire and card suits.
Burning Keno Game Characteristics
Burning Keno has a jade green grid, with white 1-80 numbers. During the 30-second betting session, the player marks a minimum of one spot and maximum of ten spots per set (the coupons are displayed at the left).
Pressing "Bet" enters a subsequent set of selections. Aside from marking spots by tapping; players can click the orange-and-black 1-10 numbers along the right margin to automate the desired spot-marking process.
Burning Keno's bets per set: $1 (minimum), $2, $3, $5, $10. The total bets of the placed multiple sets do not exceed $450.00. The red-orange selections—or no selections—precede the self-starting round; the ensuing spherical draw system at the left is then replaced by a 5X4 grid, where the winning numbers appear in fiery balls that trigger these Burning Keno payouts for qualifying hits.
One pick's hit pays X3.5.
Two picks: one hit pays X1; and two hits pay X10.
Three picks: two hits pay X2; and three hits pay X50.
Four picks: two hits pay X1.5; three hits pay X10; and four hits pay X75.
Five picks: two hits pay X1; three hits pay X3; four hits pay X30; and five hits pay X150.
Six picks: three hits pay X2; four hits pay X15; five hits pay X60; and six hits pay X500.
Seven picks: zero hits pay X1; three hits pay X2; four hits pay X4; five hits pay X20; six hits pay X80; and seven hits X1000.
Eight picks: zero hits pay X1; four hits pay X5; five hits pay X15; six hits pay X50; seven hits X200; and eight hits pay X2000.
Nine picks: zero hits pay X2; four hits pay X2; five hits pay X10; six hits pay X25; seven hits X125; eight hits pay X1000; and nine hits pay X5000.
Ten picks: zero hits pay X2; five hits pay X5; six hits pay X30; seven hits X100; eight hits pay X300; nine hits pay X2000; and ten hits pay X10000.
Burning Keno's four progressive jackpots, displayed along the top, are assigned the four card suits. Far top left: the clubs suit—related mini jackpot. Top left: diamonds suit, representing the minor jackpot. Top right: hearts suit—related major jackpot. Far top right: spades suit-related grand jackpot.
Burning Keno software: orb-embedded countdown timer; mobile and desktop versions; prompts; four increasing jackpot counters; hamburger menu consisting of bet settings, on/off sound, bars-related hot/cold numbers, trophy-related pay table, game history, comprehensive user guide; current/last bets; and selections-shuffling crisscross icon.
Ambient music: techno beats, interspersed with jingling. Sound effects: swishing, chinking, trilling, rattling, ringing, and strumming. Animated 3D graphics: cascading starry green balls, fiery and rocking balls, blazing brand name, glowing congratulatory messages, fire streams, red bolts of lightning, glowing and flaming orb, inferno, spreading tongues of fire that progressively reveal the winning numbers, and green plasma waves.
Luck in Burning Keno
Burning Keno is a game of luck whose RTP rate is 98.18% while the house edge is 1.82%.
Our Most Popular Keno Casinos for United States: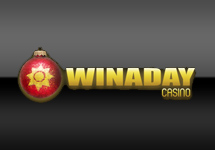 "WinADay Casino is the home of "Power Keno', the most populer online casino game with 7 Cards of Keno at once!"