MultiCardKeno.com » Keno Games »
Xmas Keno Cat

Xmas Keno Cat is a festivity-related December 2020 game from Evoplay Entertainment. Themes: cat, and Christmas gifts and decorations.
Xmas Keno Cat Game Characteristics
The starting page has a quick three-page guide: advising players to make up to five selections from a pool of 1-30 numbers; shows game-starting and bet-clearing icons; and informs about the bonus-triggering collectible Christmastime presents.
The ">" icon leads to Xmas Keno Cat's pyramid-like grid, which is set in a cat's house: a striped pink-and-blue room with Christmas lights, filled with Christmas gifts, and whose walls are adorned with photographs of emotional cats and a bony fish. The grid's purple-and-white numbers are embedded on a silhouette of a yellow-starred dark green Christmas tree atop two Christmas boxes that, in turn, are positioned on an orange mat.
Xmas Keno Cat has these fifteen bet sizes: $0.10 (minimum bet), $0.20, $0.30, $0.50, $1.00, $1.50, $2.50, $4.00, $5.00, $10.00, $15.00, $25.00, $40.00, $50.00, $100.00, $150.00, $250.00, $400.00, and $500.00 (maximum bet). There is an alternative slider under the bet settings, after which the player clicks "confirm".
The Xmas Keno Cat players select numbers—by clicking numbers one by one, or using the random-selecting crisscrossing icon—that then change into predominantly red cells. Undesired selections are deselected or removed via the white "x clear" accompanying the brown counter—atop stacked gifts—showing marked numbers and their corresponding bet multipliers. The white-and-black snowflake starts a round.
These are the Xmas Keno Cat payouts after the five blue-and-black numbers have been drawn—alongside a boxed gift—wherein the matching selections appear as spinning red numbers.
One selection: a hit pays X5.50.
Two selections: one hit pays X2.40; and two hits pays X7.70.
Three selections: one hit pays X1.20; two hits pay X5.00; and three hits pay X26.60.
Four selections: one hit pays X1.00; two hits pay X2.40; three hits pay X8.50; and four hits pay X37.00.
Five selections: one hit pays X1.00; two hits pay X1.20; three hits pay X3.20; four hits pay X12.80; and five hits pay X100.
The drawn faint blue boxed gift—can even land in a drawn number—may show up on a player's selection, thus getting stacked to the right of the grid. After five polka-dotted or striped presents—bottom to top: pink, blue, red, green, and orange boxes—are collected, a sneaky and curious cat hops onto a gift, thus revealing a random bonus win multiplier. The six possible win multipliers are X5, X6, X7, X8, X9, and X10. Xmas Keno Cat's maximum win is $8800.00.
The good Xmas Keno Cat software: available in English, Russian and Chinese languages; random picker; slider-related sound settings—sound volume, music volume; on/off show intro; game history; and 10/30/50/80/100 stoppable autospins if the preset credits exceed: 1-1000 for single wins, 5000-15018 for balance increase, and/or 1-5008 for balance decrease.
Sound effects: chinking, jingling, and popping. Ambient sounds: Christmas carol interspersed with a chuckle. Animated 3D graphics: glitter effect, spinning numbers, a strolling silhouette of a black cat, gold ribbon award display, and blinking Christmas lights.
Luck in Xmas Keno Cat
Xmas Keno Cat's random outcomes are based on the SHA-256 Hash Generator. RTP rate: 96.68%. House edge: 3.32%.
Our Most Popular Keno Casinos for United States: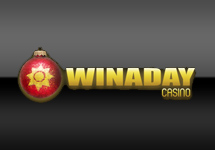 "WinADay Casino is the home of "Power Keno', the most populer online casino game with 7 Cards of Keno at once!"