MultiCardKeno.com » Keno Games »
Keno Pop

Developed by 1X2 Gaming, Keno Pop is an inflatable online keno variant that was released on June 20, 2016. The developer operates three other keno games, namely: Firefly Keno (August 2016), Kenotronic (May 2016), and Tutan Keno (August 2016). Sunburst and balloons are the themes in Keno Pop whose bursting images inspired its title.
Keno Pop Game Characteristics
"Go full screen?" This may be the first prompt after loading, and players should press the accompanying brown mark or "X" icons. However, some online casinos may first prompt the Keno Pop's mobile version players to tilt their mobile to portrait mode before proceeding.
Keno Pop has a yellow-framed board—it is set on a yellow-and-orange sunburst—whose blue cells consist of ten rows and eight columns, with numberings 1 up to 80. To predict the numbers that will be drawn; players can either click the numbered cells, or press the purple icon (crossed arrows) nearest to the green "play" icon to get randomly picked selections. It is possible to have both manually picked and randomized selections.
The picks comprise of a minimum of one selection and a maximum of 15 selections. The other purple "X" icon clears all selections, but a single selection can only be cleared by deselecting it. Selected numbers turn orange. Players can press the crossed arrows repeatedly until the randomly picked selections are satisfactory. Also, players can opt to play using the previous selections continuously.
The blue "<" and ">" icons beside the black bet size are used to increase or decrease (cannot be randomized) the thirteen optional Keno Pop bets: $0.10 (minimum bet), $0.20, $0.30, $0.40, $0.50, $1.00, $1.50, $2.00, $4.00, $6.00, $8.00, $10.00, and $20.00 (maximum bet).
Pressing "play" prompts the colorful—purple, blue, red, yellow, and green— balloons, between the board and the user interface, to rise and randomly burst atop the drawn winning numbers. The correctly predicted numbers turn yellow, which contrasts with the black cells, where the balloons indicated the winning numbers.
Bet size and quantity of selections determine the Keno Pop payouts. For example: one correctly guessed selection does not pay anything for 10+ selections, while two correctly guessed selections do not pay anything for 12+ selections. Each bet size and accompanying amount of selections have their own range of payouts.
For example: the $0.10 bet size offers the game's lowest $0.35 payout for one winning selection, while the $20.00 bet offers the game's maximum $10000.00 payout for 15 winning selections.
Keno Pop's HTML5 technology-based and user-friendly software has mobile and desktop versions. There are 3D graphics whose animation include: flickering winnings; golden falling coins that gush out of the winning selections; ascending balloons that bursting into red pieces.
There is also a yellow-and-orange sunburst that spins clockwise idly while not playing; it changes to a purple sunburst that spins counterclockwise speedily during gameplay.
The sound effects: classic slot machine sound, bubbling, and balloon rubbing.
Luck in Keno Pop
Keno Pop' three different RTP rates depend with selection. Three selections yield 95.81% RTP rate and 4.19% house edge. One selection yields 87.50% RTP rate and 12.50% house edge. Average selections yield 92.82% RTP rate and 7.18% house edge.
Our Most Popular Keno Casinos for United States: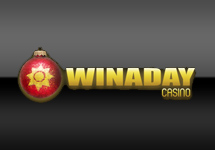 "WinADay Casino is the home of "Power Keno', the most populer online casino game with 7 Cards of Keno at once!"