MultiCardKeno.com » Keno Games »
Poker Keno

Poker Keno is an exclusive online game brought to us by the wizards at Sky Vegas Casino.
The name of the game gives it away – this is an interesting take on the game of Keno, with a poker theme to it. Well – at least that's what you'd think. Instead it's really just a basic poker game with no Keno aspect to it at all. Yeah – I'm confused too.
I'm pretty sure Sky Vegas is the only way you can play it. I had a look at a bunch of other online casinos and couldn't find Poker Keno at them, so Sky Vegas is where you can play it.
Also as if this writing, you can actually get a £10 no deposit bonus over at Sky Vegas. So if you want to play Poker Keno for free and try it out for youself, head on over to Sky Vegas Casino (Doesn't accept Americans; play Power Keno at WinADay instead. and get yourself that no deposit bonus so you can play Poker Keno for free.
What Is Poker Keno?
First of all – a picture speaks a thousand words, so here is a screenshot of Poker Keno: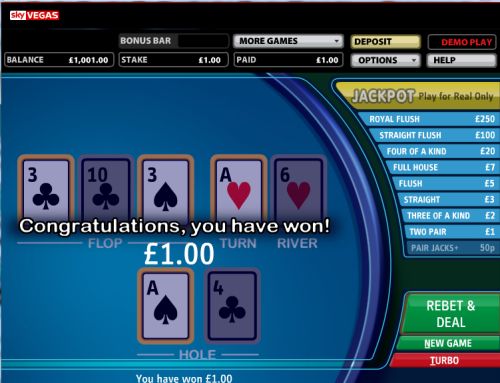 It's pretty neat actually – as soon as you open up the game, a women will appear in video format and explain how you play it.
Have you ever played Let It Ride? That's essentially what Poker Keno is, except without the decision of whether or not to pull bets after the flop.
You choose the amount you want to bet, and you get paid on a Pair of Jacks or higher. You are given two hole cards, and then the flop, turn and river are dealt face down. When ready, click "Reveal Flop" and you will see that. Then just "Reveal Turn" and "Reveal River".
There's really not much to it other than that – it's essentially poker. The Keno aspect of it is practically null – you don't get to pick your hole cards or anything like that.
If you're a Keno fan, it's not really for you. If you want to play poker in the most beginner format possible then it would be perfect for you.
Either way – £10 is nothing to sneeze at, so hop on over to Sky Vegas Casino (Doesn't accept Americans; play Power Keno at WinADay instead. and claim your £10 no deposit bonus now.
Where To Play Poker Keno?
Like I said above – the only place you can really play it is at Sky Vegas Casino (Doesn't accept Americans; play Power Keno at WinADay instead.. I've looked around, and I can't see any other online casino that offers Poker Keno. I am pretty sure Sky Vegas is the only place to play Poker Keno online. They do offer a free version that you don't even have to register for. Just click the play money version and play.
Poker Keno Features:
Poker Keno starts with a video introduction from a beautiful model. As far as game features, you have the option of choosing "Turbo". This deals the Flop, Turn and River without ever having to click any buttons other than "Bet". You can also choose "Rebet & Deal" to place the exact same bet that you amde initially.
There is also a jackpot, and this is available for real money users only.
Poker Keno Rules:
The rules for Poker Keno are just like actual Texas Holdem' Poker. You are given 2 cards, and then 5 cards are dealt out in the form of the flop, turn and river. You then make the best 5 card hand and if it is at least a pair of jacks, you win cash.
All the poker hand rankings are in this – from a pair of Jacks to Two Pair, all the way up to the Royal Flush.
Poker Keno Review:
If you can't tell during this review – yeah, I'm not a fan. It's not that it's a bad game or anything – it's just that meh – it's NOT KENO, you know what I mean? Like – it's not even CLOSE to Keno. It's just poker. That's it. I've sat here trying to find SOME form of Keno aspect – but nope, nada.
There was actually this really old board game I thought it might be similar to – it was called Po-Ke-No and it was a card bingo game. I thought that might be like that – that game came with 12 different cards, and it was actually a pretty neat game. But nope – this is just some weird version of single player poker.
I'd give this game a miss, unfortunately.
Our Most Popular Keno Casinos for United States: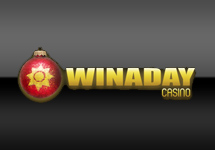 "WinADay Casino is the home of "Power Keno', the most populer online casino game with 7 Cards of Keno at once!"