MultiCardKeno.com » Keno Games »
Superball Keno

Keno is one of the world's most popular casino games, but there are a number of variations on conventional Keno which provide players with more opportunities to win cash prizes. One of these is Superball Keno – a fast paced and exciting Keno game that is similar to traditional Keno but incorporates an element of surprise with the 'superball', which is the last or 20th number to be generated in the game. Matching the superball with a number that you have chosen can dramatically increase your winnings, and generate a larger jackpot. Here is a review of Superball Keno, with focus on the benefits, rules, and features of this game.
What is Superball Keno?
In Superball Keno, the rules are similar to traditional Keno games that you may have played in the past. You will need to match randomly generated numbers with those you chose on your ticket. Doing so will increase your chances of winning. However, in Superball Keno, an additional element is added – the superball. This ball can increase your winnings if it matches a number that you have previously selected. There are many different ways to play the game. For example, you might decide to take a bigger risk by choosing more 'spots'. Alternatively, you might want to play it 'safe' by choosing less pots. Many players prefer to use around five spots which still provides them will a high pay out if their numbers are matched, as well as good odds in the game.
Superball Keno features
The game is easy to play, with an instructions page that you can refer to that details game rules, and what you will need to do in order to win the jackpot. You can refer back to this page at any point during the game by pressing the 'help' button. To start the game, just press 'play' or 'start. Some Superball Keno games have an autoplay feature, which will automatically press the start button for you each round so you don't have to do it automatically – saving you a lot of time. Important information is kept on-screen at all times for easy reference, including your last win amount, game count, and bet amount.
How to play Superball Keno
In Superball Keno, the aim of the game is to bet on different numbers in order to win prizes. In conventional Keno, you can choose a 'spot', and then determine the spot that you want to play. For example, if you choose a 5 spot, you are betting that 5 numbers will match one time. You can also decide how many tickets that you want to play with in order to increase your chances of winning. Numbers are randomly generated which ensures that players have an equal chance to win in the game. However, many players will use different strategies, such as choosing lucky numbers, or combinations of numbers that have a significance to them. Other players may choose numbers in a certain pattern or sequence. By selecting the 'start' or 'play' button, balls are randomly generated and these will appear on the screen during the game. You could then be given the option of raising your bet at this point, or simply keep your remaining bet.
Superball Keno rules
Superball Keno features numbers from 1 to 80, and you will be able to bet on up to ten numbers at any time. The last ball to be generated (or the 20th ball) becomes the 'superball' and will multiply your bet by four times if it matches one of the numbers that you have chosen to play in the game. Playing Superball Keno can dramatically increase your winnings, making it one of the most popular Keno games.
Conclusion
Superball Keno is a fast paced game with plenty of chances to win. The game is straightforward so can be enjoyed by players who have never played a game like this in the past, as well as those who have played online casino games before. The game uses the latest graphics and sound effects to create a similar experience to conventional casinos that you might find in Las Vegas. You will also be able to read an instructions page which includes all the information that you need when playing for the first time. Those who are experienced in Keno might enjoy this new variety because of the bigger prizes that it can generate.
Our Most Popular Keno Casinos for United States: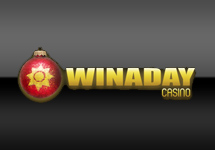 "WinADay Casino is the home of "Power Keno', the most populer online casino game with 7 Cards of Keno at once!"