MultiCardKeno.com » Keno Knowledge Base »
How to use bonus codes for keno online

As online gaming continues to evolve and slots become more and more intricate, keno stands out as a fun, accessible game that offers people entertainment combined with simplicity.
Keno is entertaining for anyone, but it can be even better if your online keno game is enhanced with a bonus code. In this article, we'll tell you all about keno bonus codes and how to use them for an improved gaming experience.
What are bonus codes in online keno?
Before we look at how to redeem bonus codes and their terms and conditions, it's important to understand what bonus codes are and what they can do.
These codes are like other promo codes you might have seen when shopping online. They're alphanumeric and unlock extra rewards for players. Here are some examples:
In-game enhancements: Bonus codes might unlock a game's additional features, such as free players, special variations or increased payouts.
Promotional deals: Bonus codes are offered by keno platforms to attract players and reward them for taking part.
Unlocking exclusive content: Some codes might allow players to access games that otherwise aren't available, which can add variety and a layer of excitement.
Boost winnings: Bonus codes can boost your starting balance or provide extra opportunities to play without using your own money.
Finding keno bonus codes
Bonus codes specifically for keno aren't always easy to find. Here are some ways you can find them:
Check official keno websites. Many have promotions pages where they list bonus codes players can use.
Subscribe to newsletters. If you've previously enjoyed keno, you may want to subscribe to the platform's newsletter as you might get sent a bonus code for keno.
Look at social media platforms. Be sure to follow your favorite keno casinos on social media so that you can see when they launch new keno bonus codes.
Check out online keno forums and communities. You're not the only one out there looking for keno bonus codes. Join ranks with other fans and help find and share bonus codes.
Explore keno blogs and review sites. Some influencers often get exclusive bonus codes to share, especially affiliate marketers. Explore these for the latest offers.
Join a casino loyalty program. If you're a member of keno casino, be sure to sign up for their VIP program so that you can get exclusive offers.
Read website terms and conditions. Sometimes keno bonus codes are written in the website's terms and conditions, so be sure to check them out.
Types of keno bonus codes
There are various types of keno bonus codes. Here are the most common ones:
Welcome bonus codes
These are offered to new players when registering at a keno casino. They usually offer matched bonus funds or free games.
Deposit bonus codes
You can use a deposit bonus code when adding funds to your account to play keno. This usually gives you bonus money to play with to extend your gameplay.
No deposit bonus codes
This is a bonus you can claim just by using a code without depositing any money. Usually, these are available to new customers so they can try keno without risk.
Free keno game codes
These grant you complimentary rounds of keno when you redeem them. You might find these as a part of another bonus or on their own.
Reload bonus codes
Keno players are often offered a bonus when they reload their accounts to continue playing. This boosts your bankroll and gives you more playing opportunities.
Refer a friend bonus codes
If you refer a friend to keno and they use your code, you both get rewarded for your efforts with free keno games.
Keno cashback bonus codes
Some keno sites offer cashback bonus codes for players who have experienced losses.
How to redeem keno bonus codes
It is usually a straightforward process to redeem a keno bonus code — the hardest part is finding a code! Here is a step-by-step guide on how to use your keno promo code:
Log into your casino account: If you don't have an account, you'll need to sign up by entering the required details. You might be required to verify your email address to proceed.
Access the bonus code area: You'll need to find where to enter your code. This could be on sign up if you're a new customer or in your account if you're an existing one.
Enter the code: Enter the code exactly as it's written in the desired location and press submit.
Receive your bonus: When your code is validated, your bonus will be activated. This usually happens immediately.
Play keno: Now that your code is activated, enjoy playing keno.
Bonus code terms and conditions
Bonus codes usually come with terms and conditions. It's important to understand these. Here are some things you can expect to find:
Wagering requirements
The thing that can make the most difference to whether a bonus code is good is its wagering requirements. These are also referred to as playthrough requirements or rollover requirements. These requirements mean you have to wager a specific amount before you can withdraw any winnings associated with the bonus code.
Winning caps
Some keno bonus codes have a cap on how much you can win when you play with a bonus. Anything you win above this might not be withdrawable.
Only one bonus at a time
Typically, you won't be able to use more than one bonus code at once.
Bonus code eligibility
Some bonus codes have eligibility criteria. For instance, a code might only be available to new players or players who haven't made a deposit yet.
There are keno bonus codes to be found if you know where to look
Keno bonus codes aren't as readily available as other casino bonus codes, but you can find them. Before using a bonus code for keno, remember these key takeaways: read and understand the terms and conditions, practice responsible gaming to avoid problem gambling and have fun!
Our Most Popular Keno Casinos for United States: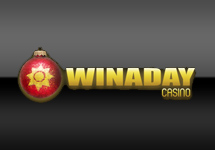 "WinADay Casino is the home of "Power Keno', the most populer online casino game with 7 Cards of Keno at once!"