MultiCardKeno.com » Multi Card Keno »
Multi Card Keno Deposit Bonuses

Normally I would be telling you about each site that offers a certain version of keno and explaining to you what the deposit bonus is of each site to help you determine which site works best for you but this article is a little different. There is only one site to play Multi Card Keno online and that site is WinADay Casino with their version of Multi Card Keno – "Power Keno". So I will only be going over their deposit bonuses which, even with the lack of options for sites to play at, should make Multi Card Keno fans happy.
With all that said here are some of the deposit bonuses WINADAY offers plus the terms and conditions of each bonus offered:
$500 Registration Bonus:
After players have arrived at WINADAY they will need to register first, after which they will need to deposit money into their account. By depositing as little as $25.00 or up to $250.00, WINADAY will match you first 5 deposits up to $500.00:
1st Deposit – 100% up to $100
2nd Deposit – 25% up to $62.50
3rd Deposit – 25% up to $62.50
4th Deposit – 25% up to $62.50
5th Deposit – 85% up to $212.50
So that's a nice perk for players who are going to be depositing anyways and who is going to argue when someone gives you free money?
But before you decided to just grab the cash bonus and quickly withdraw it you should know that each registration bonus has to be wagered at least 10X before requesting a withdrawal and before players receive the deposit bonus they must first wager the amount that will be matched by WINADAY at least once before receiving it
Free $50 for each $500:
For every $500.00 deposited and for every $500.00 after i.e. $500.00, $1000.00, $1500.00 etc., WINADAY will give you a free $50.00 which will be automatically added to your account.
You'll need to wager the $50.00 10X before you are able to withdraw it plus you will need to wager your $500.00 and every increment of $500.00 after once before receiving the $50.00 bonus.
Winners Every Day Draw:
Every day at WINADAY they will award a random player up to $100.00 just for depositing money and playing within the previous seven days. Players can win up $100.00 depending on how much money was deposited on that specific day by all players. So the more money that is deposited by all players on any day the more money there is to be won. With this draw happening every day and a new winner every day if you don't win today you might tomorrow or the next day.
This promotion only works for people who play using real money and the winning bonus must be wagered 10X before being able to withdraw winnings
These are just a few of the bonuses offered and they also have new weekly bonuses and monthly bonuses that change all the time for example sometimes they will give players a specific day or month to deposit money and they will offer a reload bonus for that day or month or if a certain game is played they will offer bonuses for that game so it's worth checking out to see if any new offers come up that appeal to you.
So hopefully this article was helpful in explaining some of the deposit bonuses available at WINADAY casino and if they seem appealing to you then head over and give it a try at WinADay Casino and remember to check the promotions they offer often as they change frequently.
Our Most Popular Keno Casinos for United States: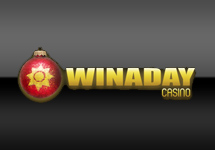 "WinADay Casino is the home of "Power Keno', the most populer online casino game with 7 Cards of Keno at once!"