MultiCardKeno.com » Blog »
Keno Scratch Card Blog #15: Return of the Fruit Explosion

Last week, I did my 14th Scratch Card Blog on here – and while I didn't win anything, I probably had the most fun YET.
The reason it was so fun was because of the new scratch card I discovered, which is called "Fruit Explosion".
This scratch card is bright, colourful and man – just a hell of a lot of fun.
So of course, I had to go with it again this week.
Last week I said I kept meaning to check the prizes to see if the grand prizes had been won yet It only makes sense and is +EV to play the ones where the five figure grand prize is still available.
Unfortunately I was too excited to get Fruit Explosion, I didn't check that. Oops. Annoyingly, the OLG website also doesn't offer any details on it. Oh well – we'll go with the idea that there is still grand prizes to be won – makes it a lot funner!
Here are the two cards: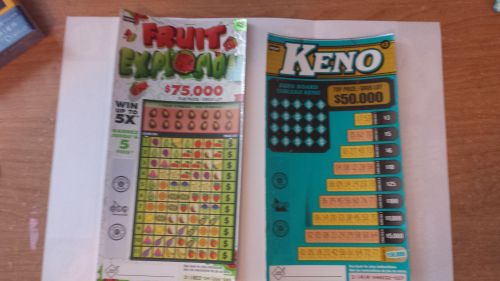 Let's get the crappy Keno scratch card out of the way first so we can get on with the fun stuff!
Here's the first row of the Instant Keno Scratch Card:
We got 4, 28, 77, 23, 64. 2 numbers off the $10 prize. Nothing else too exciting.
Okay let's do the second row:
We got 27, 73, 72, 39, and 09. Nothing too exciting there. We do need just 1 and 43 to get the $6 prize so I guess that's something eh.
Alright, onto the third row: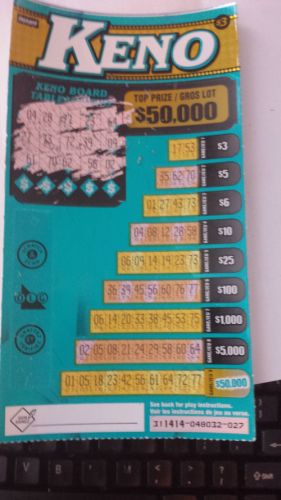 Bit better there – 61, 70, 62, 56, 02. Now we have 2 numbers scratched for the $5 prize which is a good possibility of actually us winning that which is nice. Just need 35 for that.
What's funny is when you get 2 lik ethat – the first thing you do is look to make sure you didn't miss 35 previously!
Alright, the last row then we get the Fruit Explosion fun yay.
Oh hey – we got 12, 14, 01, 35 and 06 meaning we won $5! Off a $3 card woohoo.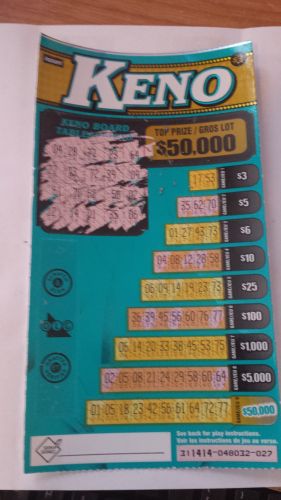 Hilarious – here I am scratching and not caring for this one and we bloody win. I love it.
Alright, onto the Fruit Explosion. First thing I do is scratch all the prizes. Imagine winning and not knowing what the prizes
First 5 symbols are scratched here: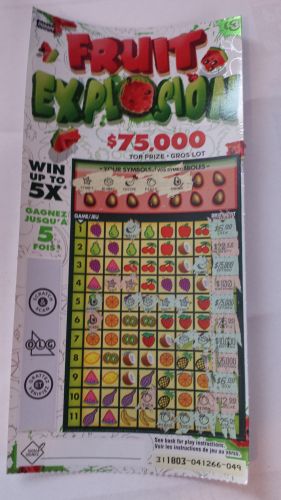 Star fruit, Blueberry, Cantelope, Peach and Avocado. Always too hard at this stage to see just what we need. Best to scratch more then we get an idea. Let's scratch another 5 fruits:
Lemon, Fig, Banana, Apple and Pear.
So some openings – watermelon nets us $25. That's the only sure thing thus far. Cherries would be nice too as would grapes for big prices.
If only we could be that lucky eh? Let's do the final 4. We have:
Grapes. That's a massive one. Cherries would get us $26 now.
Coconut. Cherries would get us the $75,000 prize now haha. And watermelon still for $25.
2 left.
Orange. Now a strawberry, one single little strawberry, is worth $75k.
Stupid pineapples I hate you.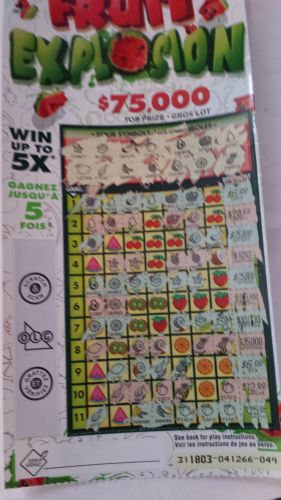 Our Most Popular Keno Casinos for United States: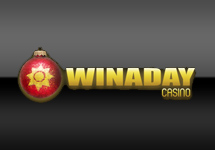 "WinADay Casino is the home of "Power Keno', the most populer online casino game with 7 Cards of Keno at once!"