MultiCardKeno.com » Single Card Keno »
Single Card Keno Rules

Single Card Keno Rules:
Keno has been a very popular game that has been played for over 3000 years so there must be something about the game that has let it continue to be one of the more popular games played worldwide and the reasons are simple: It's fun and easy to play.
I would recommend for beginners trying out the Keno game at Classy Coin Casino (Now Closed: Try Power Keno at WinADay instead). You can play for free(with play money), you get $25 free no deposit in REAL MONEY, and it is an extremely simple game to play. Here's a screenshot: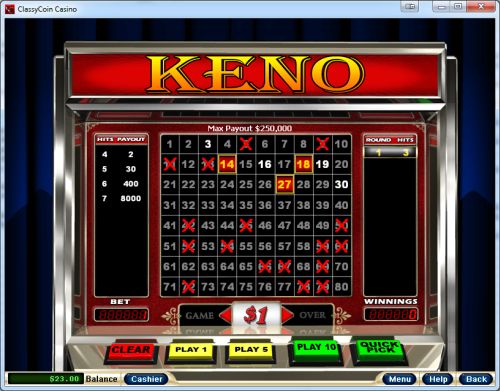 To begin you first must figure out which numbers (or spots as they are often referred to as in Keno) you would like to play with; it can be your lucky numbers or completely random numbers, keeping in mind that in the game of Keno the fewer numbers you play, the higher percentage of those numbers you will have to hit to win any large amount of money, for example if you were to bet 5 numbers and catch all 5 you would win 50 times your original bet but if you were to play 15 numbers you would only have to match 9 of those 15 to win the same 50 times your original wager increasing significantly with each additional number matched.
After selecting numbers you next step is to choose how much you're willing to wager on that set of numbers if you're feeling lucky bet big or got a bad vibe then bet low. After you have chosen your numbers and decided how much to bet then you are ready to play. After the 20 completely random numbers have been drawn you are hoping to match as many numbers as possible to the numbers you choose the more you match (or Catch in Keno lingo) the more you win based on the casinos Keno payout table.
In this example I am going to bet $5.00 and play 15 numbers the numbers I'm playing are going to be: 2, 4, 13, 15, 24, 26, 35, 37, 46, 48, 57, 59, 68, 70 and 79. The numbers are then drawn and I have managed to catch 7 numbers: 4, 15, 24, 46, 57, 70 and 79. Most casinos will offer a payout table like this one below:
So I played 7 numbers (spots) and managed to match (catch) 7 so I win 5 times my original wager of $5.00 so 5 X $5.00 = $25.00!!! Not bad for 30 seconds of work. And that's all that there is to it so smooth, simple and easy! A game 3000 years old and it is still incredibly fun and effective today. Keno is a high risk high reward game that should be the go to game for all players no matter their skill level.
Keno For Dummies:
Ok well Dummies is a strong word how about we say Keno for Rookie Players. Below is a step by step list for first time players:
Step 1: Choose the numbers you would like to play. You can choose between 1 number and 15 numbers. The numbers available to choose from are 1-80. Choose numbers by clicking directly on the number.
Step 2: Place your wager. Your wager is the amount you are willing to bet on one game of keno. Your winnings will be multiplied with your wager. Choose wager amount by adjusting wager amount on screen.
Step 3: Press play after you have selected your numbers and placed you wager
Step 4: After the numbers have been drawn, match your numbers to the drawn numbers and get paid accordingly. The more you match the more you win. See the payout table to figure out your winnings
Step 5: Repeat steps 1 through 4 for the next game unless you are happy with the numbers and wager amount from the first game then skip to step three. If you want to play new numbers press the clear button which will quickly erase all numbers leaving you with a fresh set of numbers to choose from.
As I recommended above – hit up Classy Coin Casino (Now Closed: Try Power Keno at WinADay instead) for a really simple Keno game.
Our Most Popular Keno Casinos for United States: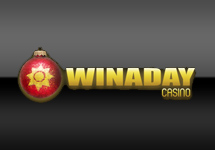 "WinADay Casino is the home of "Power Keno', the most populer online casino game with 7 Cards of Keno at once!"