MultiCardKeno.com » Multi Card Keno »
Play Multi Card Keno for Free

If you're like me and enjoy playing single card Keno than you're really going to love Multi Card Keno and all the excitement it offers. Multi-Card Keno is played the same as any standard game of Keno just with the obvious difference being multiple cards and numbers.
Players can enjoy Multi-Card Keno for FREE at WinADay Casino and their version of Multi-Card Keno called POWER KENO.
You can even play for real money but without depositing anything – by using an exclusive no deposit bonus we have set up. For the bonus code and all the details, click here.
Not only does Power Keno run flawlessly it also looks amazing, sounds great and is so easy to understand that people who have never played Keno ever before will within minutes of trying it be playing like a pro thanks to their user friendly design and layout and the best part about all of this is that no download is required to play Power Keno at WINADAY.
And not only do they allow players to play for free but they also give players the option to play with real money and offer some really good deposit bonuses for example they have a $500.00 registration bonus and a Winners Every Day Draw just to name a few with different and new deposit bonus being available all the time it's worth checking the promotions often. This all sounds good right? Below we have a step by step guide on how to get to Power Keno once you're at WINADAY.
Once you arrive at WINADAY Casino you will first need to quickly register which only takes a minute to do and is completely free. After registering you will be brought to the main page of the casino with a large WINADAY logo in the center of the screen. Your next step is to select "Games" that is located at the top left of the options surrounding the WINADAY logo.
After selecting games it will open up a window with all of the games available to play at WINADAY Casino and there is a bunch of them but the best of them being Power Keno so along the top of the screen you will see some tabs, choose the tab titled" Others" which is the fourth tab from the left. After choosing that tab the first game listed will be POWER KENO choosing it will take you into the game.
Once in the game here is a quick rundown of where the buttons are and what they do exactly:
To choose your numbers click directly on the number on your card, this is located directly below the game board repeat this for all cards you will be playing
To play multiple cards, to the left of the game board is a list of the 7 available cards for you to play they are listed as: Ticket 1, Ticket 2, Ticket 3 up to Ticket 7. If the Ticket is blank it means it isn't active to make it active click on it and it will light up. You can shuffle quickly between you active cards by clicking on them and it will show you which number's you have picked on each card.
To bet select your wager amount by clicking directly on the amounts located at the bottom of the screen under you active card the amounts are: $0.10, $0.20, $0.50, $1.00, $5.00 or $10.00. Or you can click on the BET button and it will go from left to right along the amounts stopping when it lands on the desired amount.
To have CPU select random numbers for you choose the Quick Pick option located at the bottom left of the screen. Choosing this will randomly generate numbers for you for each card. The numbers 1-15 are located to the left of the quick pick button changing this number with the plus and minus buttons located top the left of these numbers will change the number of numbers that are randomly generated for you so if you have the number 7 chosen the each card you are playing will have 7 random numbers chosen.
When you already have a great game like Keno then add in the excitement of multiple cards and numbers, great graphics and sounds, no download required and the option to play for free and for real money with sick deposit bonuses, this really is an amazing game and a great online casino gaming experience.
See for yourself – click click click to WinADay Casino now.
Our Most Popular Keno Casinos for United States: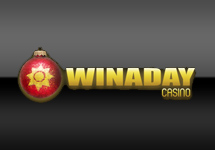 "WinADay Casino is the home of "Power Keno', the most populer online casino game with 7 Cards of Keno at once!"