MultiCardKeno.com » Mobile Keno »
Pirate Keno Review

Advancements in computing and application software technologies as well as progress in designing has made it possible to play casino games from anywhere in the world. With a modern smartphone like android or iOS, you can easily play multiple games across multiple platforms with ease. Keno is a popular casino game that can be accomplished using various devices including mobile phones, tablets and PCs. There are various types of Keno game available to choose from ranging from Cool Keno to Keno Kingdom, Lucky Keno and Pirate Keno among others. Here is a descriptive Pirate Keno iOS app review that details features, play instruction, rules, bonuses and rules of one of the popular Keno games.
What is Pirate Keno?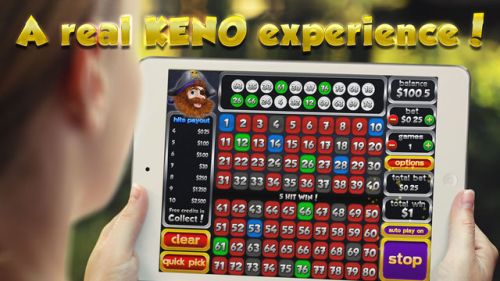 When playing Pirate Keno, it is all about adjusting and finding better combinations to win and attract bonuses. This iOS configured game application is optimized with a fast interface and pirate theme to complete an aesthetically impressing design. The game is all about stocking a pirate safe of credits and using them to make bets for more opportunities to win big payoffs. It has the trademark attributes of existing Keno games albeit with a touch of playing freedom of a pirate. This application comes with various features that are accessible after installation and mainly optimized to run on iPhone.
Pirate Keno features
This is one of the most true-to-the-theme Keno games available on mobile platform. The exciting experience is credited to various unique features that only exist in Pirate Keno. The application is easy to use and has simple keys for completing various tasks. The obvious feature is a Pirate Booty Safe which keeps betting credits. This gives users opportunity to "loot" bonuses and gather as much points as possible to win betting credits. The traditional casino style game depicts high resolution graphics all through. The games bounty feature also offers full menu customization where you can adjust the game specs such as speed and volume as desired. There are various other minor features generally aimed at enhancing gaming experience and providing swift simple interface.
How to play Pirate Keno
Pirate Keno is not the simplest Keno game out there but still takes no effort to learn how to play. Once installed on your iOS-platform device (iPhone, iPad), the game opens up to an ergonomic menu display where you can customize aforementioned settings. Betting is as easy as clicking Sail and you can collect treasure chests that are full of credits along the way. The game has numerous opportunities to collect treasures in foreign places. It features a full-color playfield that offers interesting and fun gaming platform. You can play Pirate Keno from the General's Quarters and forget about orders or main-brace. The idea and interesting phenomenon that attracts many into playing Pirate Keno stem from betting huge to win huge. The more credit you use to bet, the more treasure chests you are likely to accumulate and there are opportunities to win jackpots as well. In order to play, you will need to press a couple of buttons that are clearly illustrated and defined. Betting using credits is also a requirement prior to playing and the buttons to be stroked are conspicuously displayed in an ergonomic screen.
Pirate Keno rules
Pirate Keno is obviously fun and exciting to play. It is also one of the Keno games offering highest payoffs and allows maximum gathering of points which translate to credits. The game is governed by various basic rules typical of all casino games. These include eligibility to play, betting and credit caps/limits, maximum payouts and slots among others. It also has specific unique rules that determine what maneuvers and results increase the chances of winning given amount of credits, payoffs or bonuses. The amount that one can win is highly determined by their risks and how much credit they use betting.
Pirate Keno Review
When playing online casino games using a smartphone like iPhone, the best experience should match convenience, ease and swiftness achieve with other more advanced platforms. The Pirate Keno app allows you to play seamlessly without experiencing lags. You can adjust to fast play or slow it down as desired. This game is definitely a thrill to play for any genuine gambler and game lover. The game is also optimized for a wide array of iOS platforms and has sister versions configured for android. It simply the most entertaining Keno game available.
Our Most Popular Keno Casinos for United States: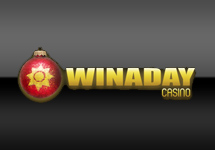 "WinADay Casino is the home of "Power Keno', the most populer online casino game with 7 Cards of Keno at once!"