MultiCardKeno.com » Mobile Keno »
Multi Card Keno iPhone Apps

How about some Keno on the go
While obviously the best place to play Multi Card Keno Is at WinADay Casino there is going to be times where you don't have access to your computer and still want to play so what's the next best thing? How about a Multi Card Keno App! Below I've compiled a list of the best Multi Card Keno apps Available for download. So if you want to practice your strategy, kill some time or just want to play your numbers as often as you can when away from home then these apps offer something for everyone.
Keno 4 Multi Card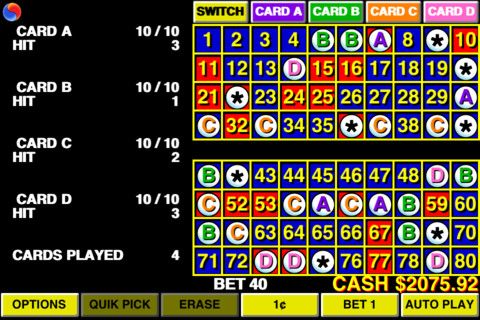 Authentic Vegas style 4 card Keno for your IPhone that looks and feels like the real thing. The game's simple yet effective design allows you to play up to 4 cards at once betting up to 10 numbers per card per game and all of it is incredibly fast and easy to do. If you're short on time or haven't yet figured out your go to numbers then you're going to love the quick pick button as it randomly selects the numbers for you. And if the quick pick still doesn't give you enough time then you have the option to speed up or slow down the game.
The game also saves your numbers so if you have to shut your phone off at any time then no need to worry because upon returning to the game your credits and numbers will be remembered so you can keep your winning streak alive. With all the things I've mentioned plus the ability to turn on auto play, display numbers that are hot or cold, Big Win animations, colorful graphics, volume control and everything is done by simply pressing your finger against a screen I'm certain you'll love this app.
Oh and I should mention its completely free! That's right all of this costs you nothing at all. Where else can you have endless hours of fun that doesn't cost you anything or can land you in jail?
Keno 20 Multi Card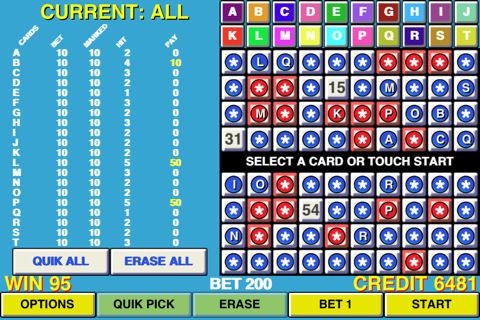 For the more adventuress player, they may think 4 cards? That's it? I can play 4 cards in my sleep well then this game is for you. With all the amazing features and functions of Keno 4 Multi card, Keno 20 lets you play up to 20 cards! No that's not a typo you can play 20 cards at once.
And it's very easy to use. Cards are assigned to letters A-T so by pressing any of those letters that are conveniently listed at the top of the screen it instantly shows you your card and the numbers you have chosen. So for the strategic Keno player or maybe even Rainman this game is for you. And this app is also completely free.
Both games are amazing but for a more realistic feel they also have versions of the same apps that cost $9.99.. Keno 4 Multi Card Las Vegas Casino & Keno 20 Multi Card Las Vegas Casino give players the same games that I described above with 2 major differences: the first being the ability to have custom pay tables, which is a great way to see if your number patterns you are playing are optimal.
The second difference is called The Super Keno Shuffle Engine. We all know that losing is no fun but it's just part of gambling in general so with the super keno shuffle engine you can decided how often you win from all the time to true casino feel (win less often) and everything in between the choice is yours
I recommend sticking to the free version it will get you through until your by a computer but if you really like the ability to change pay tables to match the tables at WinADay Casino and also decided how often you win then by all means grab the paid version.
So that's the two best and really the only two you need to know about so enjoy them I know I do and just think the next time you have to be somewhere you don't want to say the in-laws or church have no fear Keno is Here!!!
Our Most Popular Keno Casinos for United States: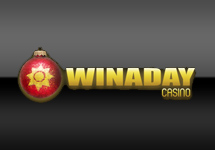 "WinADay Casino is the home of "Power Keno', the most populer online casino game with 7 Cards of Keno at once!"