MultiCardKeno.com » Mobile Keno »
Keno Trek Review

This Keno Trek ios app review is going to show everything you need to know about the game such as its features, how to play it, its rules and what other players are saying about it. Feel scared? Don't need to, let's go!
What Is Keno Trek?
Keno Trek is another soft betting game, geared towards family play and a lot of fun. It's suitable for the ages of 18 to 81 or older, but even kids can play it under parents supervision. Includes Extra Balls, Game Multipliers, Free Games and much more to intensify the gaming experience.
The best of all is that players can play such Keno's games and always keep their money safe. In other words, no matter if they lose during game play, this game doesn't tend to be like real casino games that cause you to lose a lot of money.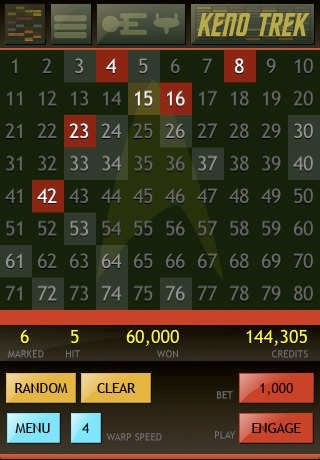 Keno Trek Features:
• A free Keno game for iPhone and Ipad.
• Bet as much as 1,000,000 credits in every game you play.
• Game Center which includes Spot Leaderboards for enticing your competition.
• Game Speed includes 4 speeds (Really Fast, Fast, Normal and Slow).
• Win Multiplier every time your bet is right.
• Extra Balls.
• Free Games.
• Random Keno Numbers selection available through Quick Pick or Manual Pick.
• App includes Win-O-Meter for you to measure your score and your game winning streak.
• Keno Casino Quality with HD high-quality graphics for an intense game play.
How To Play Keno Trek
To play Keno Trek is very easy. But first you must make sure that you already have installed the app in your device. If you haven't, go to the App Store, search for it by its name, and click to download it. Open the downloaded file and then just install it. Confirm the whole process.
Once installed, you'll notice the game's icon on your device's screen. Simply tap it to open it.
Once the game is running, you'll need to select your numbers either through auto pick or manual selection.
Make your bet. If you have no credits you'll need to either use free credits (if available) or buy them. You can buy 100K Credits for $.99 cents or 1 Million Credits for $1.99 dollars. That is plenty to go around and play for hours. Unlike real casino games, this allows you to keep your money in your pocket and play a lot without losing hordes of cash. So it's a no-brainer.
Once you have your credits, you'll need to select your numbers. Then just hit Engage. The game will then display a random selection of numbers. These will be cross-referenced to your numbers. The more numbers you make right, the more your bet is going to be multiplied. This is the time where you are able to earn a lot of free games and free credits.
Remember to also set the speed before you hit Engage, otherwise it will run in that selected speed as standard. The game will also show to you your current game status with marked, hit, won and credits balance for convenient consultation.
Keno Trek Rules
Keno Trek's rules are very intuitive. First, you know that you cannot select more than the max allowed set of numbers. Once you hit Engage, you cannot go back. You can only make a bet if you have credits, otherwise you'll need to buy them. Every time you run out of credits the game might allow you to get 100 FREE CREDITS, but that varies according to the type of Keno game that you are playing. Now let's see what other players are saying about it.
Keno Trek Review
Here are community reviews submitted by players of Keno Trek:
Esther Cybula says that she acquired over 600 million coins by playing the game (a though cat, hmm?). She said once the game froze on her and once she went to restart it, all her coins were gone. Then she had to start all over, which was very annoying and a great turn off for the game. Smentdocr1n says that this is the best game he ever tried, and that if you also love Keno's games, that you'll love this one. Yabbaguy says that this game is a bland game, and really overrated. He complains about the layout a bit, where the next power-up display is shown (that it should be more visible) and that he also didn't like the 50 free games deal.
Now it's up to you to check it out or not. Remember that you can find it at the App Store.
Our Most Popular Keno Casinos for United States: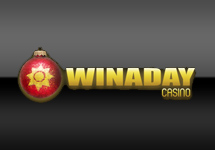 "WinADay Casino is the home of "Power Keno', the most populer online casino game with 7 Cards of Keno at once!"