MultiCardKeno.com » Mobile Keno »
Keno Tap Review

Are you ready for full-on Vegas excitement, even if you're thousands of miles away?
Dear Keno fans worldwide, from the makers of the #1 Keno App game, Bimza Games brings you the Keno Tap app for iOS mobile.
It's now available for FREE on your iPhone, iPad, and iPod Touch and can be downloaded and played instantly from the Apple app store . Just simply search for: Keno Tap.
What Is Keno Tap?
Keno Tap for iOS is a full-on replicated version of Vegas-style video Keno that is gaining massive attention by gamers and app junkies across the world. Lately, many Keno Tap players have been raving about this app, so I decided to test this game out for ourselves and post up my fresh non-biased opinion on it.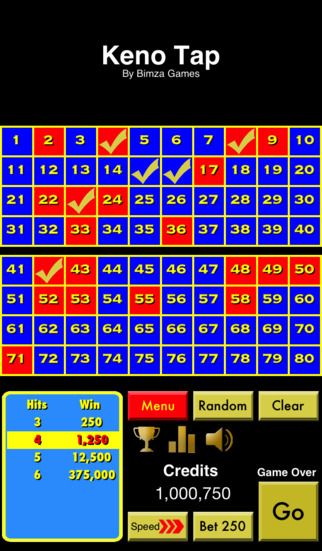 Personally, I've always loved the original casino favorites such as Poker, Texas hold'em, Baccarat, and Blackjack 21, but especially BINGO. Keno Tap provides all the excitement and adrenaline rush of winning in these games, along with a similar structure to how Bingo works. Being a huge fan of Bingo myself, it surely satisfies my itch for picking out numbers, and then crossing my fingers! It has become the most-used app on my phone since I've installed it.
The app is filled with tons of fun and I must warn you that it's extremely addictive! You'll never have an excuse to be bored out of your mind again.
With Keno Tap, you can literally relive the ultimate Vegas experience, and you bring it everywhere you go.
Keno Tap Features
Keno Tap has many great features. The most prominent being the ultra-realistic, retro-style Vegas casino-replicated machines and sounds, so you feel like you're back in the west coast!
They start you off with 100 free complimentary game credits to get begin your fun. If you want more, it's only $.99 for 100,000 additional credits, or 100 more for completely free!
If you happen to become tired of picking numbers one by one, the 'Quick Pick' option makes the game automatically choose random numbers for you , and you are ready for the next drawing after just one tap!
If you're busy or sleeping and want to boost your Leaderboard score on auto-pilot, the 'Auto-Play' will keep running the game when you're not on your phone. You might just find out that you've already hit that ten-number match when you reach for your phone!
Keno Tap is equipped with 5 available speeds to suit your fun. You decide your game pace. Choose between 'Slow', 'Normal', 'Fast', 'Really Fast', and 'Instant.' The quicker you win, the better. Every time you win a game, your spot on the Leaderboard will rise above other live Keno Tap players, earning you more bragging rights.
When you feel that you are hitting a lucky streak, you can bet upwards of up to 1 million credits per game. As the old saying goes, You gotta' bet big to win big.
Entire games of Keno can be completed in just a few seconds. There's no need to wait for the casino to reset the game. You can play hundreds of games within an hour with the easy 'instant' and 'auto-play' options.
One of the best things about having the Keno Tap app is you can experience Vegas without unvoluntarily smelling cigarette smoke, or having to listen to those annoying players that won't stop talking to you and telling you how you should be playing!
How To Play Keno Tap
Playing Keno Tap is very straight forward.
First, Tap on the numbers you think will be picked. You can do this your own strategic way, or you can let the game decide randomly for you by tapping on Quick Pick. If you don't like the numbers you or the game chose, simply tap "Erase all" to start over, or just tap on each number individually to undo the selection.
Next, set your desired game speed. Tapping on 'Speed' will shift through the 5 speeds that are available to you.
Almost there! Place your bet by tapping on 'Bet' to increase the amount.
Finally, Tap Go and the game starts!
Keno Tap Rules
The rules of Keno Tap are very easy to learn and memorize.
The numbers you are allowed to pick range from 1 to 80. Keno Tap lets you choose anywhere between 2 and 10 numbers. When placing your wager, you can bet anywhere between 1 and 10 million credits. From there, the game will automatically fill in 20 out of 80 boxes. Every time one of your numbers matches a box, it's technically known as a 'catch.' You are paid out credits according to how many numbers you catch, or lose credit when you don't 'catch.'
Keno Tap Review
Keno Tap is highly addictive and even more fun. I used to play BJ and Bejeweled on my iphone until I found this game. I've actually forgotten about the other games. It actually earned a shortcut icon on my start screen. I love how this game takes me back to Vegas when I used to travel there with my family in the summer heat. The audio sounds. The graphics. The exciting adrenaline rush it gives me. Do I need to ever go back? I don't have to blow thousands of dollars with this fun-packed app in my pocket. It's free! When I'm parked and waiting to pick up the kids, or if I'm waiting in a long line, this game passes time like no other. This version of Keno is very easy to play. If you make a mistake, you can undo it in a tap. Props to the developer of this game. It's never frozen or given me any problems. It's very fast-paced and keeps me glued to the screen. The best part is that when I sometimes run out of credits, it lets me play for free. I vouch for this game and recommended it if you love casino gaming apps. When you start the game, you're given 100 free credits which you can build up into the millions. If you want more real credits you only pay $.99 for 100,000 credits!!! If you ask me, I'd rather spend one dollar for hours of play over going to the casino to blow hundreds in 10 minutes.
Our Most Popular Keno Casinos for United States: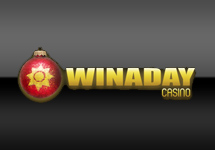 "WinADay Casino is the home of "Power Keno', the most populer online casino game with 7 Cards of Keno at once!"