MultiCardKeno.com » Mobile Keno »
Keno Kingdom

If you're a fan of Keno games, you'll want to try Keno Kingdom – a fast-paced and exciting new Android app that allows you to play Keno on your smartphone or mobile tablet when at home or on the go. The game comes with a number of features, including autoplay, quick picks, and some of the best graphics around. Here is a review of the Las Vegas-styled Android app Keno Kingdom, with focus on the benefits, features, and rules of this game.
What is Keno Kingdom?
Unlike other Keno games, you can make use of a 'quick pick' feature, which quickly allows you to choose your own numbers. You can also save your credits and picks to play at a later stage, or check out your scores on the Gamecenter Leaderboards (where you can compare your winning scores to those of other players). Keno Kingdom utilizes the latest technology to bring you the very best graphics, and sound effects to enhance game play. Downloading the app onto your smartphone or mobile tablet is easy, and once it's been installed on your device, you will be able to play when out and about or away from home. The latest edition of the game features new levels, so you'll never get bored of playing Keno on your mobile device.
Keno Kingdom features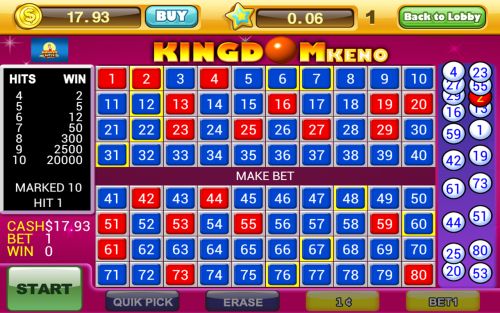 The app features eight different casino themes to choose from – effectively allowing you to customize your own Keno game. In addition, there are free Keno tips, providing you with all the information you need when playing the game, making Keno Kingdom ideal for those who are new to this genre, as well as those who have played similar games in the past. Don't want to have to automatically press the start button during every round? No problem – with Keno Kingdom's autoplay feature, the game will trigger the game automatically for you, saving you a lot of time and hassle. The game is extremely straightforward to play, and all information you need is kept on-screen at all times, including your bet and the number of credits that you have left in play. You can also refer to an instructions page, which includes information on how to play Keno Kingdom. You can read this page before playing, or refer to it at any point during the game.
How to play Keno Kingdom
Keno Kingdom is similar to other Keno games that you may have played in the past. The aim f the game is simple – just match the numbers on your Keno tickets with randomly-generated balls throughout the game in order to win. Each round of Keno is called a 'race'. There are a number of different techniques that Keno players use in order to win the jackpot. These might involve playing their numbers in patterns, instead of spreading them all over the table. Other individuals like to position significant numbers in a certain way on the Keno board. Even if you have never played Keno before, you'll soon pick it up. Think of it as a similar game to the lottery, where you will be able to win prizes for matching the correct numbers.
Keno Kingdom rules
Keno Kingdom comprises of virtual coin-operated slot machines, where you will need to select a minimum number of four (but no more than 10) numbers during every round. Choose between 1 and 80 for each selection (also called a 'spot' in Keno). Once you have selected your numbers, just wait for randomly-generated numbers to be drawn during the game. A barrel of 80 numbered balls will be drawn from, and if you match all the numbers on your ticket, you win the game. Results will be displayed on-screen during Keno Kingdom. You will be able to select different bets, and can play as many tickets as you like.
Keno Kingdom review
Keno Kingdom (Android app) is one of the best Keno apps on the market because of the authentic casino-style environment that it provides. If you have ever played Keno in Las Vegas or Atlantic City, you'll love playing Keno Kingdom because of its exciting pace, and realistic graphics. Take advantage of high definition retina graphics and background music that will make you feel like you are in a real casino. The game is easy to play, with a detailed instructions page providing you with all the information you need.
Our Most Popular Keno Casinos for United States: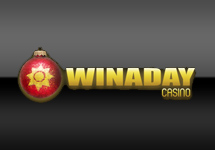 "WinADay Casino is the home of "Power Keno', the most populer online casino game with 7 Cards of Keno at once!"