MultiCardKeno.com » Mobile Keno »
Keno Keno 4x Review

Here in this Keno Keno 4x ios app review you'll learn everything you need to know about the game, its features, how to play it, its rules and what other players have said about it. Quite a handful, right? So, let's go!
What Is Keno Keno 4x?
Keno Keno 4x is another amazing app from the Keno family. The 4x means that it has a 4x bonus multiplier. Once you get the last ball right, you'll get 4 times that amount in payout.
This game is indicated for those aged 18 and older, but it's family oriented that's suitable for even kids to play it. Once you get the last ball right, you'll get 4 times that amount in payout, which increases the fun and allows for extra games.
The cool thing though is that you can play this game and feel as if you are in the real casino yourself, but that you don't go broke or lose all your money playing it. This eases anyone's mind, for sure.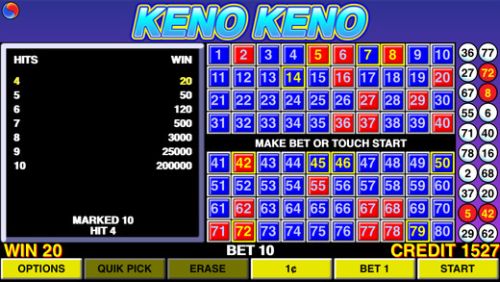 One of the best online casinos is Pinnacle Sports. They're not just a sportsbook anymore! They have a solid selection of Keno games as well and I believe have Keno Keno 4x, or at least did last time I checked. Don't forget when signing up there to grab your Pinnacle Promo Code for the best rewards.
Keno Keno 4x Features:
• You guessed it, it's FREE!
• Music support for iPod background.
• Compatible with iMac, iPad, and iPod.
• COLD or HOT buttons option to allow you to know if you're close to the target.
• Advanced AUTO PLAY configurations within features.
• Amazing realistic casino background and ambiance sounds.
• HD Retina display with optimized graphics for Retina iPad and double down.
• Save credits between games which is wonderful and doesn't make you lose your game progress.
• Different Game Speed Options – from Blazing Fast to Super Slow.
• Quick Pick Option – so you can quickly choose through auto selection.
• Bet from 1 to 10 in any given hand.
• MAX BET – just hold down for 2 seconds the BET button and it will display a MAX BET for you.
• Amazing look that makes you feel like you're playing the real thing.
• Another authentic Keno casino game with Las Vegas style.
• In-App purchases.
• Buy 100K credits for only $.99 cents.
• Buy 1 Million Credits for only $1.99 cents.
How To Play Keno Keno 4x
Playing Keno Keno 4x is very simple, but first make sure that you have the app installed from the App Store.
Run the app. Tap the app's icon found your device after you've installed it to play it. Once the app is running you're able to play it.
Choose your numbers. You can either use the Auto Pick function for the machine to pick your numbers for you or you can choose the 20 numbers hand, manually. Some players find it boring to do it every time because it is time-consuming, so they enable the Auto Pick option. However, some players really like to select manually, especially if they are making huge bets.
Make your bet. After you've selected your numbers, you'll need to choose how many credits you want to make your bet. Remember that you can choose up to 10 to bet for each number. You might use your FREE 100 CREDITS if these are available. If you have no credits however, you can just head to the App Store to buy them or use the In-App buying function to buy 100K credits for only $.99 cents or buy 1 Million Credits for only $1.99 cents.
Hit Go/Start. At this point, your numbers are going to be validated against the current hand. The more numbers you get right, the greater multiplication factor of the hand. You can also earn a lot of free credits or games at this point.
Keno Keno 4x Rules
You can only select a max of 20 numbers. Also, once you hit Start/Go you cannot change anything, so it's best to change the game configurations prior to even making your bet. Free games don't mean a sure win, but some Keno versions allow for a sure free number selection for you. Let's now check out what other players are saying about it.
Keno Keno 4x Reviews
Here are community reviews submitted by players of Keno Keno 4x:
Mike says that he really likes the game and indicates it for everyone while Suzy says that the game wasn't everything she expected, but that surely it is better than many other ones that she played. This surely makes it more interesting if you want to play this game, as you have some pointers from other players.
These are just a few pointers for you to make your choice more reliable. Good luck and don't forget to let us know what you thought about this app so we can add your review here.
Our Most Popular Keno Casinos for United States: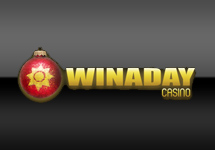 "WinADay Casino is the home of "Power Keno', the most populer online casino game with 7 Cards of Keno at once!"