MultiCardKeno.com » Mobile Keno »
Keno Gold Review

Here at this Keno Gold ios app review you'll learn more about this soft betting game, which allows you to have a lot of fun. The scenario of this app is totally challenging and doesn't require complex gameplay. It's very enjoyable and allows for people of all ages to have an exhilarating gaming experience.
What Is Keno Gold?
Keno Gold is a soft betting game which allows for people of all ages to have a very interesting fun gaming experience. From within the app, players are able to buy 100K Coins for $0.99 and 1 Million Coins for $1.99.
It's obvious that the cost for these Coins is only to maintain the game makers and sponsor more upcoming game releases and updates. It's a very affordable price if you ask me, and I don't think is problematic if someone gets hooked on this. There are just so many Coins to play with, that it's hard for players to run into money issues as a consequence of intense game playing.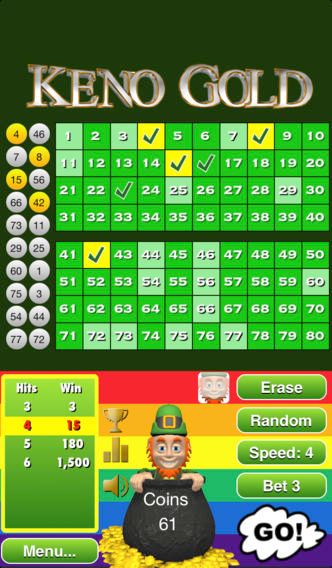 Players say that this game is very fun, that there are many extra prizes and free chips giveaways. There are no glitches and the machine never tries to steal your Coins or chips.
There are many exciting game modes within this game and many extra features to enhance the gaming experience, such as Extra Balls, Game Multiplier and Free Games. Yes, you also can get Free Games. Isn't that exciting?
Keno Gold Features:
• Buy 100K Coins for only $0.99.
• Buy 1 Million Coins for only $1.99.
• Get many bonuses such as Extra Balls, Game Multiplier and Free Games in every gameplay.
• An awesome game for players between 18 and 81 years of age.
• Allows for hours of fun through interactive gameplay.
• Rich casino-style sounds and rich graphics.
• A casino-style game play but the difference is that players don't lose their money, which enhances the fun.
• There are also many casino games, solitaire, Texas hold'em, poker, machines and much more.
• In the latest 2.0.2 version it is possible to bet up to 1,000,000,000,000 Coins [1 TRILLION Coins]!
• An awesome customer support available.
How To Play Keno Gold
Playing Keno Gold is very simple. First make sure you've downloaded Keno Gold to your iOS device which you can find at the App Store.
Then once it's properly installed, simply tap the icon of Keno Gold on your device to launch the game.
While in gameplay mode, choose your Keno numbers.
Then place your bet on those numbers. There are free coins you can use for your bets initially, but then probably you might need to buy 100K Coins for $0.99 cents or 1 Million Coins for $1.99.
Also, don't forget to choose your Keno Game speed. You can choose as much as 5. The faster the game speed, the harder the gameplay.
Once you're all set with your numbers and Coins bets, simply tap Go. Then 20 Keno numbers will be selected randomly and shown to you on your device's screen. They will be compared to your selection. You can earn as 90 x (Times) your bet value if all numbers you selected are also randomly selected and displayed on your screen.
Then just repeat the cycle.
Keno Gold Rules
Keno Gold rules are a no brainer. First, you must know that you can only choose a set of numbers and make a max amount of bets.
Also, you may change the Speed during gameplay, but not after you hit Go. There are also Game Multiplier Bonuses which become available everytime the clover fills in green color. But it doesn't mean that you'll always be lucky. At times, you might not win any more bonuses, and during free extra games you might also not win anything.
Keno Gold Review
Keno Gold is loved by its players. They say that you'll make an amazing investment when you buy this. It won't cause you to lose money, and since there are a bunch of Coins that you can buy for so cheap, you don't feel like you're being ripped off or are becoming addicted to a game that will ruin your financial life. Players really enjoy also playing this game for hours. All is made to enhance your game play experience to the best of your time, as you have more fun than actual money loss. This means that you are in for a safe bet, literally!
Our Most Popular Keno Casinos for United States: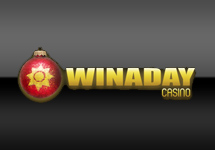 "WinADay Casino is the home of "Power Keno', the most populer online casino game with 7 Cards of Keno at once!"