MultiCardKeno.com » Mobile Keno »
Keno Fairy Review

In this Keno Fairy ios app review, you are going to learn everything about the game. Game features, how to play, rules and a quick review note of what other players think about it. All to make your choice a most reliable one. So let's get started!
What Is Keno Fairy?
Keno Fairy is an app game compatible with both iPad and iPhone which are iOS devices. It is a soft betting and family oriented game which is directed towards a fun gameplay. Has an easy game interface, with auto selection of spots at the beginning of each hand and a free marked spot.
It allows you to win 12 free games whenever the last number you chose is selected. While also playing those 12 free games, Keno Fairy will help you by making every first number you select a sure bet. This will drastically increase your chances of winning.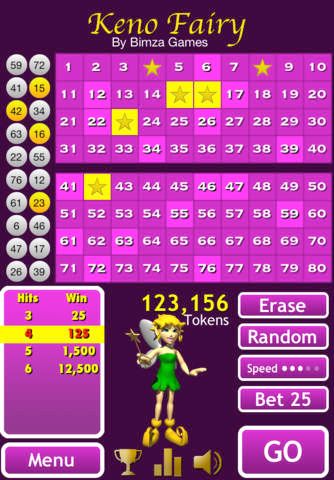 Keno Fairy Features:
• Bet as much as 1,000,000 credits in every game.
• Game Center includes Spot Leaderboards.
• Up to 5 speeds in the game including (Instant, Really Fast, Fast, Normal & Slow).
• Free Marked Spots in random selections.
• Free Games available through the Plus Bonus Feature.
• Random Keno Numbers available through Quick Pick selections.
• Includes Win-O-Meter in both iPad and iPhone devices.
• High quality game scenario in Casino Quality Keno display.
• Classic Keno Game Play which also includes the Keno Fairy's Help for easy game learning curve and support.
• Also includes a superb customer support for all your inquiries.
How To Play Keno Fairy
Keno Fairy is very easy to play. But first make sure that you have properly downloaded the app to your iPhone or iPad device. You can find the game at the App Store. After the game is successfully installed, simply tap on the game's icon on your device to launch it.
Once Keno Fairy is running you can start playing, and make your bet. You can either use some free credits if these are available or for $.99 cents you can buy 100,000 coins and for $1.99 cents you can buy 1,000,000 coins. Simply choose the amount you want to bet and hit Go.
Don't forget to set your desired Game Speed prior to hitting Go, so that the game play experience can be as you want it to be.
Then after you've tapped Go, a set of numbers is going to be displayed on the screen. These are going to be matched up against your selected numbers. The more numbers you chose that appear, the more your bet is going to be multiplied, allowing you to even win a lot of extra free credits and free games.
Also, by buying more Credits your rank rises in the Game Center Leaderboards. There are many players that buy a lot of them, just for the sake of the rankings.
Keno Fairy Rules
The rules for Keno Fairy are very intuitive. You can only choose a set amount of numbers. Also, before you hit Go you need to select your Game Speed, if left unchanged, the game is going to play at the standard speed available.
You can win many extra games, but it's not always possible to be lucky while playing the game. There are free games that you may play and win nothing.
If you run out of Coins, you'll always get 100 extra FREE Coins. There are also many extra Coins available whenever you make in-app purchases through Apple's App Store.
You are also able to compete against yourself by playing 10-Spot, 3-Spot or 2-Spot. It's up to you to decide what rankings you want to reach and what achievements you want to make.
Keno Fairy Review
Here are community reviews submitted by players of Keno Fairy.
Players love the game. Loriholmes says that the game is great and she can't stop playing. CH696969 says that he loves the game and can't go without playing it a couple of times per day. Vovo Lorraine says that she enjoys playing this game for hours. She loves the Vegas casinos layouts, that you can win millions of points while playing and that the best of all is that it is free to start. Haleh also says that he loves this game and that it is a lot of fun. The graphics are amazing and allow him to enjoy and feel like he is in the casino himself. This surely makes you want to play the game yourself.
Our Most Popular Keno Casinos for United States: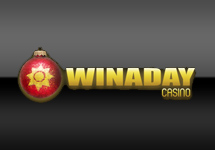 "WinADay Casino is the home of "Power Keno', the most populer online casino game with 7 Cards of Keno at once!"