MultiCardKeno.com » Mobile Keno »
Keno Eggs Review

In this Keno Eggs ios App Review you are going to learn everything about the game, such as its features, how to play, rules and check out some reviews about what other players are saying about it. Ready? Then, let's go!
What Is Keno Eggs?
Keno Eggs is another insane Las Vegas style type of game. It has soft betting capabilities within game play and many other in-app functions such as remove ads for $.99, Bottle of Credits $14.99, Vial of Credits $.99, Jar of Credits for $29.99, Can of Credits for $4.99 and Pouch of Credits for $1.99 just to get started.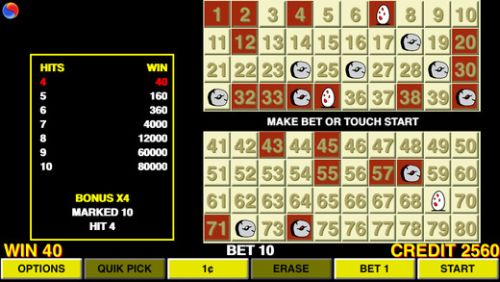 It includes a very interactive game display, crispy game graphics, and a very intuitive game play with diverse game features. Includes manual and auto capabilities for you to change on the go. If you feel like playing a lot you can just leave it at auto and many selections will upload instantly, but if you are just going to play for a while, the manual capabilities are really useful.
Keno Eggs Features:
• It includes background iPod music support.
• There are display numbers that are COLD or HOT to give you a little hint. You can select to have this feature displayed or not.
• AUTO PLAY features available through advanced options.
• Ambiance and sound effect volume configurations through the Volume Control.
• Many characteristics of amazing casino background and ambiance sounds for more realistic gameplay.
• Retina Graphics with HD quality.
• App optimized for iPod touch, iPad and iPhone.
• You are able to save your credits and picks between games.
• Game Speeds selection available from Ultra Slow to Blazing Fast.
• You can quickly pick your numbers through the Quick Pick function if you're feeling lucky.
• Bets available from 1 to 10 in each card hand.
• MAX BET available by holding the BET button down for 2 seconds.
• Looks so realistic like you are playing the real deal.
• Another Las Vegas Style Authentic Keno Game!
How To Play Keno Eggs
Keno Eggs is very easy to play. First though, make sure that you have the app properly installed in your device. Remember that you can get it from App Store. Just click download and install it.
Once it is properly installed you'll be able to see the Game's Icon on your device's screen. Just tap it to open Keno Eggs. Then it will launch the game for you to play.
At first, you might be able to play if there are some free credits. However, you might need to buy some credits like Bottle of Credits $14.99, Vial of Credits $.99, Jar of Credits for $29.99, Can of Credits for $4.99 and Pouch of Credits for $1.99 just to get started. If you also feel like removing ads you need to pay $.99 cents. If by any chance you run out of credits, it's possible that you'll gain 100 FREE CREDITS every time.
Make your bet. Simply manually pick your numbers or use the Auto Pick function to let the computer select your numbers for you. Many players like this feature best since it allows for a faster game play, and they can always test their luck even further.
Select your bet size. Then after this just hit Start.
If your select hand of numbers is also displayed after the game runs, you'll start earning points which will multiply according to how many numbers you get right. Here is your chance to win free games and free credits.
Keno Eggs Rules
The rules are simple. Just have credits, make your bet and select your numbers. You can never select more than the allowed amount of numbers. You might or might not be able to change Game Speed during game play – it depends on the version you're playing. Just hit Start and start having fun. Let's check out what other players are saying about it.
Keno Eggs Review
Here are community reviews submitted by players of Keno Eggs:
Lame says that the game is great but that she doesn't like to pay to play. She thinks that the "free bonus" every 4 hours is a joke and that she's not laughing. Spiritwalker says he didn't like the game. He even downloaded it and installed it twice but didn't have much luck. He lost 1,800 credits and gave up on it. Bonuses says that the game sucks for the $.25 cents bonus every 4 hours. She didn't like the game and the bonuses collections.
Well, these are just a few pointers – if you're curious, you'll just really have to download it and check it out for yourself.
Our Most Popular Keno Casinos for United States: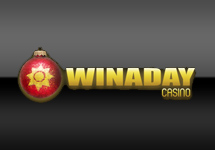 "WinADay Casino is the home of "Power Keno', the most populer online casino game with 7 Cards of Keno at once!"