MultiCardKeno.com » Mobile Keno »
iKeno Review

The iKeno classic casino game by Mundue LLC is a very light 2.2MiB iOS app available from the iTunes. The app can be downloaded for free since version 2.0, seemingly due to numerous requests by the large fan base of the game. You can check out the comments by other users in the iTunes store iKeno app page before you download. The game, written in English, was updated in May 2014 and has received 5 star ratings since then. Are you interested in the iKeno app or you just came across it and you are now wondering whether to give it a shot or not? Read the iKeno iOS app review below.
What is iKeno?
iKeno is an iOS game that simulates the classic casino Keno game. In the iKeno game, you get the chance of playing with numbers, matching them together, and see the awards stacking high up in the game centre. You are also given the chance to choose your own numbers in the game. So, basically, you can say that the iOS iKeno app is a true Keno casino game, if you cannot go to Vegas that is.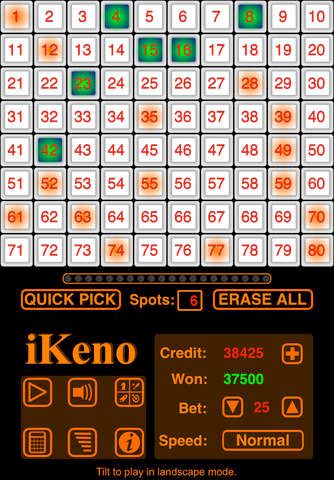 iKeno Features
Older versions of the iKeno app did not come with customisable numbers, but it is now a staple in version 2.0. This is a top feature in the game; where you can choose to play with your own numbers as mentioned earlier, for which you will have predetermined they give better scores, rather than depend on the game to pick them for you.
The iKeno app collects probability at which certain numbers make you win depending on the payout tables. As you keep playing the game, you will be able to know which numbers to use to better your scores. The Quick Pick too is a smart number picker which gives you the numbers to play with if you do not want to waste time choosing them yourself, or if you just don't feel lucky. The game also comes with three play modes: Fast, Slow and Turbo.
You earn tokens every time you play the game, 50 tokens to be specific. These tokens can also be purchased from IAP if you are a little impatient. The turbo speed mode improves the way you interact with the game, by making it more responsive and ultra fast. But you may not want such a fast speed as a beginner.
How To Play iKeno
Playing iKeno is pretty simple: you only need to match the numbers you choose, whether in patterns or as randomly as you want. Depending on the payout tables, you will gunner a set number of earnings and all these will be stacked up in the Game Centre for your future references.
When you have been playing the game for a while, you can choose the numbers that iKeno indicates as more rewarding than the rest to help you earn more points.
The earnings you get from the game depend on whether you were able to match enough numbers or not. One useful trick is to compare the patterns you use and pick one that works best since you only have a few tokens to use in the game.
You should also understand that a lot of gambling and guessing goes into the success of the game, but only at first, before you master one or two patterns. You can as well tilt the display to play the game in landscape mode. This gives you more screen real estate to enjoy the iKeno and also for a comfortable gameplay comfort.
iKeno Rules
To get more of each session of the iKeno game, you have to choose how many spots on the game you want to play per session, iKeno gives you 1-10 spots, so you choose any number in between. However, remember that this is a game that applies a lot of guesses. You therefore have to learn which numbers give the highest scores, or which patterns likely make the gameplay simpler.
Additionally, you can allow the Quick Pick, which is meant to smartly pick numbers for you, to choose which numbers to play with. Since you earn 50 tokens per day, you may want to play iKeno everyday.
iKeno iOS App Review
The iKeno iOS app is a game to beat. Given it is lightweight, at just 2.2MiB, yet with superb graphics, it simulates the real casino experience. It came into the iOS store as a paid app, now, it comes absolutely free of charge due to user requests. This makes it one game you should download to your iOS enabled device. The game supports the iPhone, the iPod touch and the iPad, as long as it is running iOS 5.1 or later.
Our Most Popular Keno Casinos for United States: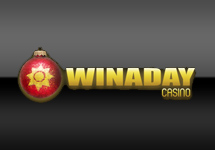 "WinADay Casino is the home of "Power Keno', the most populer online casino game with 7 Cards of Keno at once!"