MultiCardKeno.com » Mobile Keno »
Glossy Keno Review

If you love the original Vegas favorite Keno, or casino games in general, especially Bingo — Glossy Keno for Android may very well be your next favorite app.
Developed by Bimza Games, creators of the #1 Keno App game available for Android devices, Glossy Keno will surely quench your thirst of being on the casino floor and racking up your wages. Whether you're an app-addict or you give yourself the title of a gamer in general, Glossy Keno is sure to hit that sweet spot right in between satisfaction, intense thrill, and it never fails to get your adrenaline pumping.
What Is Glossy Keno?
Glossy Keno is a quick, compact version of the highly popular Vegas casino game, Keno.
Due to the public attention this app has been drawing, I've decided to install it myself and see what the buzz is all about. Here are my findings on this game.
I'm a huge fan of chance games and have always loved trying out cool new apps since its birth to smartphones, especially gaming apps. This app happened to meet both of those pro's for me. The gambling concept reminds me a lot of slot machine games, and those definitely keep me glued to the screen.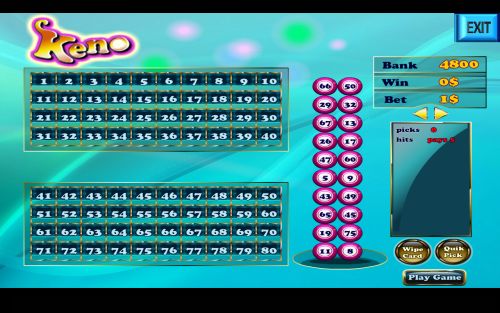 After installing this app, I was excited to soon find out that this game was not only a new favorite for me, but it also earned its spot on my first screen saver page. Yes, I placed it on my "speed dial" section. Or as I call it, "speed apps." It's fairly easy and simple to play, but I must say, it is dangerously addictive because of how it can turn a dull, boring moment into a period of pure adrenaline rush.
Glossy Keno Features
First, the exact same visual and audio effects of the Keno video game Vegas offers. It makes you feel like you're sitting right there in the desert casino on those swirly designed, colorful carpets in the Keno Lounge. Of course, without having to breathe in the nasty fumes from smokers!
When you first install the game, you are awarded a complimentary 100 free game credits to get you off the ground. With that to start, you can work your way up to thousands or even millions in credit without having to pay a cent! If you happen to run out of credits, for just $.99 you can refill with 100,000 credits, or just keep choosing the free 100 credits and work your way back up. In many casinos, $.99 doesn't even cost the price of collection fee, for ONE game!
The Quik Pick feature is available for when you're feeling lazy and don't want to pick out individual numbers yourself. It randomly picks for you in that game, just like the 'quick pick' option when you buy a lottery ticket. You never know what will happen.
When you start feeling lucky, or if you're just a plain-out high roller, you can place your wager with limits as high as 1 million credits. If you want to stack up fast, you have to bet bigger.
Usually, each game can take a few minutes to restart in a casino. On Glossy Keno, hundreds of games can be played in a matter of minutes. There is no waiting. Your fun doesn't have to stop!
How To Play Glossy Keno
After you've successfully installed and launched Glossy Keno, just simply Tap on the numbers that you think have the highest chances of being chosen by the game. If you've been keeping track of the past selected numbers, you can rationalize odds and make better playing decisions.
To speed up the game, you could choose all of your numbers automatically at once by tapping on 'Quik Pick.' The game will randomly decide your selections.
If you're unhappy with what you were given, or you want to edit your picks, just re-tap that number or quickly wipe the whole board clean with the 'Wipe Card' option.
Once you're set on the numbers, go on to place your bets by tapping on the right arrow under "Bet" to increase, and left arrow to decrease your wages.
The last step is to tap Play Game, and the fun begins.
Glossy Keno Rules
You're given the opportunity to choose between 2 and 10 numbers, each ranging between 1 and 80. Wagers upwards of 10 million credits can be placed in each round of play.
From there, 20 white numbered balls will start dropping.
Your goal is to match as many as possible. You're paid out on your bet every time one of your numbers matches a chosen ball (known as a 'catch.')
Glossy Keno Review
I've been playing this game for 2 days and I seriously lost track of time lol. It's SOOO ADDICTING! I don't think I've even logged into my Facebook account since.. This game takes me back to the 24-hour Keno Lounge at the Rio in Vegas. I only liked to play the video version as it was much quicker in all aspects. I'm a HUGE bingo fan so because this game is so similar, I was instantly hooked. I don't gamble for money. I just love the thrill of playing casino games, and this game app definitely satisfies that thirst for me.
Our Most Popular Keno Casinos for United States: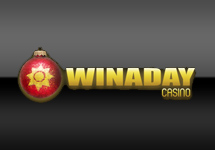 "WinADay Casino is the home of "Power Keno', the most populer online casino game with 7 Cards of Keno at once!"