MultiCardKeno.com » Mobile Keno »
Extra Draw Keno Review

Extra Draw Keno is an exciting app for Android mobile users that is a gripping variation of the standard game of Video Keno. Extra Draw Keno gives players the opportunity to win additional balls on winning draws, providing you with the exciting chance to increase your winnings. This article focuses on the features, benefits and rules of Extra Draw Keno.
What is Extra Draw Keno?
Android mobile users can download Extra Draw Keno like any other mobile app and start playing right away. The excitement of new extras such as new background music, improved graphics and a comprehensive background database that tracks your play both heightens the excitement of winning while also engaging the player in an exhilarating environment that changes depending on the play mode you select. You can also win more with the Extra Draw Bonus, a distinctive feature of Extra Draw Keno which gives players an opportunity to win with three more numbers drawn on winning bets. This increases your chances of winning and also how much you win.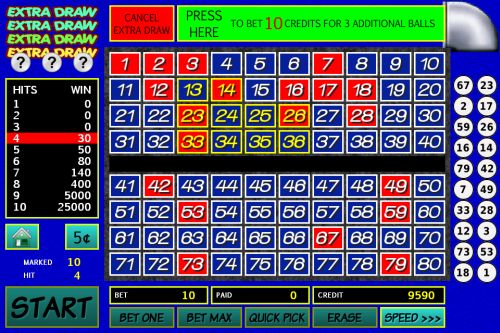 Extra Draw Keno Features
Extra Draw Keno features two modes, a casino mode and a "horror" mode. The casino mode is designed to elicit the excitement and unpredictability of a Vegas casino. The new horror mode is playful and creepy, featuring red themes, haunting music, ghosts and monsters. Statistics are helpfully saved and presented in a central view that keeps track of your win/loss rate and percentage, best jackpot and zero hits, among other statistics. Numbers are picked on a colorful and engaging interface which also includes your available credit, and easy bet options such as "bet one", "bet max" and "quick pick" are available for quicker play. The Extra Draw feature is easily accessed as part of the betting process. On the start screen, a help icon is also available to provide instructions and information on how to play the game.
How to play Extra Draw Keno
Keno is a similar to a lottery game and is played in many casinos. Traditional games use a glass enclosure (a "bubble") containing 80 balls, numbered 1 to 80, on which the results of the game ultimately depend. To play, players place bets and choose between three and ten numbers on a board. Twenty numbers are then randomly selected by the dealer (or the game). If a player gets a certain amount of numbers matched in the random draw, they win, depending on the how many numbers were matched and how much money was bet. In Extra Draw Keno, an additional opportunity is presented to win three more balls on winning draws. The extra draw applies in special circumstances as well, such as if you initially lose and need one more hit for a payback.
Extra Draw Keno Rules
Extra Draw Keno consists of a board with numbers from 1 to 80. The numbers are normally listed in rows of ten with eight rows total. The player selects between three and ten numbers and the game then randomly selects twenty numbers from the original set of 80. Results are displayed on-screen. If you match a certain set of numbers to the randomly selected set, you win! Your winnings depend on how many numbers you matched and your initial placed bets. The additional three balls in Extra Draw Keno are additionally chosen randomly and your winnings are further affected by the results. You can play as much as you like up to the value of your available credits.
Extra Draw Keno Review
Extra Draw Keno for Android is a fun and engaging virtual environment in which to feel as if you are in a Vegas casino. The interface is exciting, simple to use and easy to understand, and the statistics page is a great way to keep track of your overall progress. New, intermediate and advanced users will all be sure to enjoy this game due to its relatively simple rules and extra features such as the Extra Draw Bonus. Clever graphics and engaging background music provide for an exceptional app experience, and players can activate the horror mode for an entirely different experience with haunting graphics and an eerie ambiance. Extra Draw Keno is worth the download and the Extra Draw Bonus feature is sure to keep players returning.
Our Most Popular Keno Casinos for United States: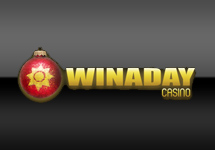 "WinADay Casino is the home of "Power Keno', the most populer online casino game with 7 Cards of Keno at once!"