MultiCardKeno.com » Mobile Keno »
Cool Keno Review

Keno is one of the easy to play games that come on a simple user friendly platform. The fast-paced experience of playing this amazing game, its bonuses and opportunities to win easily are just a few sales points that draw many. There are various types of Keno games one can play in a casino, using their PC or even smartphones. Playing Keno on your android or iOS phone is quite an interesting experience as there are apps configured to run swiftly with the phone and gaming platform. Cool Keno is one of the popular options to play although several others such as Keno Kingdom and Lucky Charm Keno exist.
Here is a detailed Cool Keno android app review including game features, instruction on how to play and rules.
What is Cool Keno?
Keno is all about perfecting your strategies and coming up with better numbers that can win bonuses. Cook Keno is not your ordinary Keno game and comes with various unique features. However, it is basically an android Keno game that is designed to reconstruct all the excitement and thrills of Video Keno while incorporating some level of uniqueness. The game integrates latest technology that delivers high quality graphics and has some efficient features that improve play convenience. You can save the number of patterns you want and play as many as 1000 games if you wish.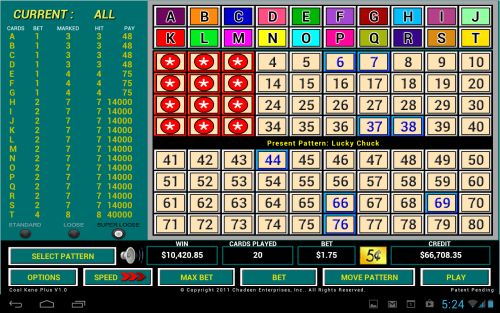 Cool Keno features
As aforesaid, Cool Keno comes with unique features that are aimed at improving gaming experience and cutting down the effort while still maintaining interesting interactions. One of the obvious features you will find in this game is the Wager Analysis that allows users to perfect their gaming strategies. The Auto Play also grants users the ability to play hundreds of games without much effort and thought. What's more, the game incorporates a Move Pattern Technology that can be used to move all your patterns only stroking two keys. This game has several other features designed for those who know how to play and discern Keno or those seeking to learn how to play multi-card Keno.
How to play Cool Keno
Basically, there are three main downloadable versions of Cool Keno that include a Free version, Gold version and Plus version. Serious gamers interested in Cool Keno should opt for the Plus version as is contains every feature in the Gold version as well as the helpful Wager Analysis feature. As soon as the game is installed, it opens up to a Keno board and increasing your bet simply involves hitting a value button provided. Placing a bet and playing are also quite simple and involve hitting conspicuous buttons. Winning Cool Keno entails creating color patterns that can emerge lucky and winners. Moving these colors around to form patterns is very easy and the interface provided is user friendly clearly showing players what moves they are making. You can save patterns for later use. The game has three different RNGs which are Standard, Loose and Super Loose. The trick is to play with tight patterns on a super loose setting as it presents opportunities to come across some incredibly huge payoffs.
Cool Keno rules
Just like any other Casino game, Cool Keno has various playing rules that are aimed at different security and efficiency as well as fairness. There are basic entry restrictions, capped payoffs, deductions and terms of play. Nonetheless, the most important rules are those governing how to play and win. There are specific color patterns that can win payoffs as well as spread opportunities that emerge with progressive play. Betting amounts are also capped as well as the use of Auto Play (the number of games one can play at any given time). Cool Keno is a single-mode game that is only played by one person rather than many like in the case of deuces and round table cards.
Cool Keno Review
There is no doubt Cool Keno provides a more interesting and exciting gaming experience that others. However, it is a game suited to experienced players and discerning the use of Wager Analysis and setting RNGs may be a little obscure from novice players. Nonetheless, it is one of the easiest Keno games out there and involves creating, saving, modifying and deleting colors. It has a complete list of needed features and also uses an attractive theme. Although the graphics could be much better with higher resolution, they are still amazing. Moreover, its configuration is optimized for speed and there are no lags in play.
Our Most Popular Keno Casinos for United States: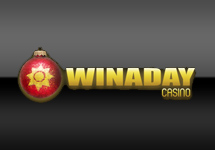 "WinADay Casino is the home of "Power Keno', the most populer online casino game with 7 Cards of Keno at once!"