MultiCardKeno.com » Mobile Keno »
Absolute Keno review

This Absolute Keno android app review will enlighten you on many things about this app like its features, how to play it, its rules and what other players are saying about it. Ready? Let's, go!
What Is Absolute Keno?
Absolute Keno is another Las Vegas style casino game from the Keno family. It's totally family oriented to provide an amazing gameplay experience. It's indicated for those aged 14 or older.
However, unlike the other smaller bet soft betting types of Keno games, I particular found this game a little bit more hardcore, with serious bets which can really bite out a piece of your wallet. This is a game that is surely not indicated for minors. This because In-App purchases can range anywhere between $2 to $85 dollars, which starts to strike a little more serious than the normal Keno games.
This game includes a more enhanced graphic display which is much more professional than other Keno games from the family. You can also choose between 4 amazing skins to customize your game background to make your gaming experience a unique one.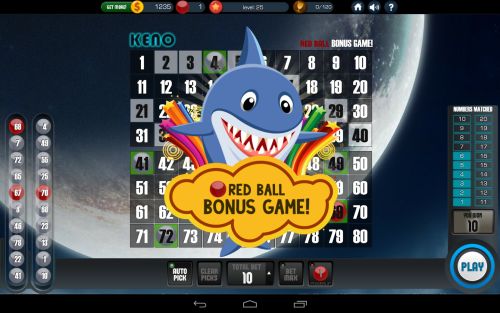 Absolute Keno Features:
• A free game with NO ADS!
• Generous range of payments so you do not have to wait forever to win.
• Free coins every 4 hours.
• Turbo Mode to play your game quickly and have quick Keno results.
• Play red reinforcement balls to earn reinforcement bonuses to increase your chances to win.
• Level up to access more and more features!
• Choose between 1 and 20 numbers ("places") of a set of 80 numbers and see how many you can match!
• Or use the function of auto-select so it selects Keno numbers for you, and throw odds of consecutive bets.
• Clean your choices to find new Keno winning numbers or keep the same choices without having to re-select numbers at every turn.
• The most exciting Keno game online available!
• 13 Megabytes sized app.
• 1.07 Version.
• Buy credits between $2 to $85 dollars hands.
• Compatible with Android 2.2 or superior devices and operating systems.
How To Play Absolute Keno
To play Absolute Keno is very simple but first you must have it installed in your device. If you don't have it yet, head to Google Play to download it to your device, then install it.
Run the app. Tap the app's icon on your device so you can start playing it. It should be on your device's home screen if it is properly installed.
Choose your numbers. Try to pick the best numbers which you think will match the computers upcoming choices. You can choose up to 20 numbers from a selection of 80 numbers. So although it's a bit hard, it's nothing like winning the lotto.
Make your bet. Choose how much you want to bet for each number. The more numbers you get right, that amount will be multiplied. The higher your score in each game, the more free credits and free games you can win.
Power up. If you want the game to get a little hotter, just hit the power-up option.
Hit Play. After you have selected your numbers and bet, you just hit Play and the game will check your numbers. Remember that many times you might get extra balls to play which increases your chances of winning and getting more points and free games to extend your gameplay for sure.
Absolute Keno Rules
You can only hit Play once. After you hit Play you can't change your Bet. Your game configurations also can't be changed after you started playing a specific hand. You can select only a max amount of 20 numbers per play from a selection of 80 options, and probably can only bet a max for each number. Now let's see what some other players are saying about it.
Here are community reviews submitted by players of Absolute Keno:
Isabel Oliveira says that this is an awesome game and that the graphics and gameplay are much more realistic than other games she played. Players in general also have found this game much more serious and it really feels like you're in a real casino, so be careful. Don't get too carried away if you don't have deep pockets.
These are just a few pointers that will allow you to better decide if this game is for you. If you play it, don't forget to let us know what you thought about it so we can add your review here. Good luck.
Our Most Popular Keno Casinos for United States: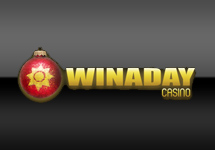 "WinADay Casino is the home of "Power Keno', the most populer online casino game with 7 Cards of Keno at once!"