MultiCardKeno.com » Mobile Keno »
369 Super Way Keno Review

The 3-6-9 keno game has been very popular for quite some time because of its fun and entertaining nature. Back in the day, you would have to go to a physical casino just to play the game. Fortunately, with the advancement of technology plus the initiative of app developers, you can now get your hands on this cash-oriented game through your smart phone or tablet computer. How? By playing the 369 Super Way Keno app on your android devices which can either be your smart phone or your tablet PC.
What is The 369 Super Way Keno Game?
369 Super Way Keno is an android app game that is based on two casino video keno: 369 and Super Way. Since the app is based on popular lottery-like casino games, its mechanics are easy to learn. All you have to do is place a bet and select nine numbers. The nine numbers that you have picked are converted to seven-way tickets so you can win through different combinations.
If you are new to keno games then this game can be your introductory playing aid. With its simple mechanics, you can start playing right away without reading long gaming manuals that won't do anything but bore you or go through a long trial-and-error process.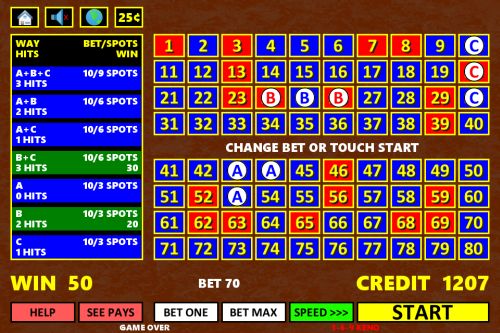 369 Super Way Features
Unlike the majority of app games that simulate traditional casino games, 369 Super Way has a lot of unique features. Aside from featuring two of the most popular keno games, the game has classy background music, clean sound effects and visually appealing graphics, and win/loss stats. Also, the game has a horror theme the feature dark ambience with burning candles and monsters to give you a different kind of gaming experience.
And of course, what's the point of playing a casino game if you can't win any money. The game gives premium payouts to those who can hit multiple numbers in one go. Since the 20-number set that uses to match on your combination will be randomly taken from 80 numbers, you have high chances of winning cash.
Another good thing about the game is that you won't have to worry about monthly fees to full and latest game updates. By paying only $1.99, you can get the game in its full form together with lifetime updates and bug fixes.
How to Play 369 Super Way
Getting started with 369 Super Way is quite easy. If you have seen a lottery game before then you are already ahead of the learning curve. First off, you will need to install the game on your android device. To do this, simply open Google Play Store, search for the game "369 Super Way" and click on install (this would be easy since the game's system requirements is easily met by majority android devices out there). Once installed, you can open the game, place your bet and mark 9 numbers. After taking your pick, press start and the game will randomly pick 20 numbers out of 80 and match it on the 9 numbers you've just picked. If you have hit enough numbers, you can start rolling the money in. Also, if you are still new at this, simply pick things up as you play (and have lots of fun while doing it).
369 Super Way Rules
The game lets you pick 9 numbers out of 80 which means you cannot select more than that. But hey, 9 numbers are more than enough for you to start winning. After selecting the numbers, simply wait for the system to match your numbers; results will be shown on the games display screen afterwards. Feel free to experiment with different bets and play with as many rounds as you like.
369 Super Way Review
Despite being a virtual replica of popular Keno games, the 369 Super Way is a must try for those who are looking ways to have fun while raking in some money along the way. You can think of this game as a portable lottery-like casino game that has been modified for a better gaming experience. The game features high end graphics, sound effects and background music that can engage your senses while playing. Also, the games data handling system can make it seem like you are playing inside a real casino. And if you are a newbie to games like these, with its fun yet simple procedure, you can start enjoying the game after your first try. For more information about the game, check out 369 Super Way Keno android app review posts/comments published by fellow gamers.
Our Most Popular Keno Casinos for United States: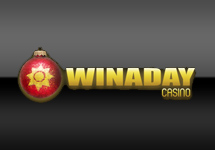 "WinADay Casino is the home of "Power Keno', the most populer online casino game with 7 Cards of Keno at once!"