MultiCardKeno.com » Mobile Keno »
20 Card Keno

Ever wanted to play Keno without having to travel to your nearest casino? Well, with 20 Card Keno, now you can. This app can be downloaded and played on your iPhone, iPad, or iPod Touch and comes with a number of chances to win the jackpot. Similar to other Keno games that you may have previously played, you'll be able to take advantage of high definition graphics, autoplay, customized game speeds, quick picks, and other features. Here is a review of 20 Card Keno (iOS app), with focus on the benefits, features, and rules of this game.
What is 20 Card Keno?
20 Card Keno is an iOS application that allows you to play Keno when at home or on the go directly from your mobile tablet or smart phone. The app works on all iOS devices such as the iPad, iPod Touch, and iPhone, and is easy to download from the official App store. The app only takes a short while to download and install, and once you're done, you'll be able to play Keno from the comfort of your own home without having to visit a real casino. You can use the volume control to customize the sounds during the game, and make use of an autoplay feature if you don't want to have to continuously press the start button during every round – a feature that can save you a lot of hassle and time. You can set the autoplay feature to run from one to unlimited games – giving you full control over your Keno game.
20 Card Keno features
20 Card Keno has a similar feel to the famous four card Keno games that you find in the iconic Las Vegas casinos. Utilizing the best graphics, soundtrack, and sound effects, you'll feel like you're in a land-based casino without even leaving your home. The game has a number of benefits, and you'll be able to play Keno at a time that best suits you on your smartphone or mobile tablet. Other features include quick picks (where you can quickly pick your numbers without any of the fuss), variable game speeds (effectively allowing you to customize your own game, with speeds ranging from super slow to blazing fast), and high definition retina graphics.
How to play 20 Card Keno
20 Card Keno is similar to other Keno games that you may have played in the past, either online or at a real casino. You will need to match different numbers with those on your board in order to generate prizes. You can use the Max Bet button by holding down this button for two seconds, and refer to information that is kept on-screen at all times, such as the amount of credit you have left, and the bet you are playing with. Playing 20 Card Keno is straightforward – just bet from one to ten on each of the twenty cards, and pick from two to ten on the twenty cards. You can refer to the instructions page at any time, which includes information on how to play 20 Card Keno if this is your first time.
20 Card Keno rules
If you have never played Keno before, you might find it similar to the lottery – where you match numbers on your ticket with numbers that have been randomly generated. In Keno, you can select up to 10 numbers during a round, with numbers ranging from 1 to 80. Just match the numbers that are selected during the game with those on your ticket. Each round of Keno is called a 'race' and you will be able to place your numbers in positions that best suit you (for example in a certain pattern or sequence). For more information on how to play 20 Card Keno, refer to the instructions page in the app.
Conclusion
There are a number of benefits and features when playing 20 Card Keno that you won't always find in other online Keno games. These include the opportunity to save your picks between a game, and even save your credits for in-between games. You have the chance to change your credits at any time, and take advantage of high definition graphics with background sounds that are similar to that of a real casino. Other features include 'hot and cold', which displays the numbers that are and cold during the game.
Our Most Popular Keno Casinos for United States: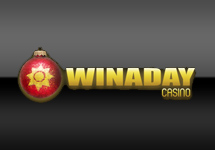 "WinADay Casino is the home of "Power Keno', the most populer online casino game with 7 Cards of Keno at once!"