MultiCardKeno.com » Live Keno »
Keno in Western Australia

Australia is reported to have the highest gambling rate on the planet, at an estimated 80% of individuals engaging with the pastime. This is evident across all types of gambling in the Oceania continent including lottery, card tables, horseracing and online gambling as well.
Victoria comes in at first place as the state with the most amount of gambling facilities in Australia, mostly due to the number of horseracing tracks and the world famous Melbourne Cup. Sydney, the capital of New South Wales, holds the most amounts of casinos, specifically, per capita.
Keno in Western Australia, AUS: Crown Perth Casino
Western Australia however, despite being the largest Australian state, has a much lower population and comprises only 3 casinos; two of which are Racecourses with casino facilities.
Given this smaller number, Keno is only offered at the land-based casino in the capital city, known as Crown Perth Casino, formerly known as Burswood Casino.
Given that Keno is not regulated in Western Australia, it is therefore the only Australian state that doesn't allow Keno to be played at pubs or clubs, unlike the other states. So if you want to have a bet on the Keno, you'll have to visit Crown Perth or play online.
Keno at Crown Perth operates two different ways, either standard paper form Keno, where results are displayed on TV screen boards or coin-operated Keno fitted out with machines and pull down levels, which are actually illegal in W.A. Despite this Crown Perth has around 2,500 coin-operated machines, with video screen Keno allowing players to play at either their own pace or much faster to increase their chances at winning money.
If players do partake in the coin-operated method however, then it is quite simple; pick the machine that catches the eye the most and play as normal by choosing the numbers. Crown Perth also has self serve machines that are open 24/7 in the casino, so players can fill out forms, place bets and check results on their own time.
The full draw of a possible of 80 numbers is randomly generated by the computer draw. Unlike other states, W.A players place a total of 10 marks on the possible 80 numbers on their forms (or screens) corresponding to which numbers they think will be chosen by the generator. The generator machine then chooses 20 numbers and if players choose correctly, their winnings increase.
Along with Classic Keno, W.A's Crown Perth also offers JackPot Keno Games. In this variation, players automatically qualify for JackPot games if they are choosing at least six numbers on any one game.
Not only does the possible JackPot grow in this version but players chances of winning are higher. Players only have to match the amount of numbers they chose in their original spots i.e. if a player chooses seven spots/numbers then only seven numbers need to be matched and so on. If gamers are trying to win big, then the 10 spot jackpot would be the bet; 10 spot jackpots start at $250,000 but can grow into the millions in winnings.
If Keno isn't your sole interest though there are two other casinos in Western Australia that can be found at Belmont Park Racecourse in Burswood and Ascot Racecourse in Perth. Fitted out with hundreds of machines and game tables, these two are popular choices, yet if you're after that Keno draw, Crown Perth is the way to go.
Our Most Popular Keno Casinos for United States: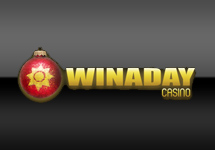 "WinADay Casino is the home of "Power Keno', the most populer online casino game with 7 Cards of Keno at once!"