MultiCardKeno.com » Live Keno »
Keno in West Virginia

Compared to other states, West Virginia has relatively fewer casinos that offer Keno, considering the fact that it has a small number of operating casinos in the first place. The state does offer a Keno bonus in its lottery, though, and is possibly one of the most active Keno platforms in the said state.
Of the 7 major casinos in the said state, only 3 of them offer the said gambling game in the form of Video Keno. If you are a Keno enthusiast, though, it would certainly be worth your while to visit the casinos in West Virginia, especially if the game is not being offered the state you live in. That being said, here is the complete list of platforms from where you can play Keno in West Virginia.
Keno in West Virginia: West Virginia Lottery Keno Bonus
In West Virginia's lottery, a Keno game is offered every 5 minutes and runs for all days of the week. The player has all the liberty to select the amount of numbers he intends to play. And, the more matches he gets, the greater his winnings. It incorporates a sophisticated random number generator, which is able to randomly pick 20 numbers within a range of 1 to 80. This action is done every 5 minutes, and it is up to the player to match them.
It also throws in a Bonus feature wherein players are given a chance to increase their winnings further with a lowly $1 cost for every play. The Bonus round is played before a draw, and it involves a Bonus Wheel being spun. Any Bonus play that gets counted as wins would multiply your earnings up to a maximum of x10. Winning combinations are automatically displayed in real-time on most venues of West Virginia Lottery KENO or you can opt to visit their website listed below.
Website: https://www.wvlottery.com/draw-games/keno-bonus/
Keno in West Virginia: Casino Club at The Greenbrier
The Casino Club at Greenbrier has recently expanded, which goes to show the booming success it is enjoying. The myriad of games it offers is also a telling sign of this, one of which is Video Keno. The relative success that the Greenbrier has enjoyed can be traced to its roots, which is centered on gaming. To say that the number of games you could choose from is vast could prove to be an understatement, especially if you would consider the over 400 games you can choose to play in its casino. While you are at it, don't hesitate to visit the place's other amenities as well, particularly the Spa, Golf Course, and other accommodations. The Greenbrier experience is never complete without availing of what the place has to offer in its entirety.
Keno in West Virginia: Mardi Gras West Virginia Casino Resort
Always relive the inimitable fun and excitement afforded by the Mardi Gras festival at Mardi Gras West Virginia Casino Resort. The place's strengths not only lies on its truly incomparable showgirls but also in its equally large casino. With a size of 90,000 square feet, its casino is only 10,000 square feet shy from equaling the recently expanded Casino Club at Greenbrier. It is in its significant size that much of the reason why you're able to play Video Keno in it hinges. After all, its comprehensive library of games are also varied, making it a perfect place for any consummate gambler and thrill seeker to hang out in.
Keno in West Virginia: Hollywood Casino at Charles Town Races
Any film and gambling enthusiast should certainly pay a visit to Hollywood Casino at Charles Town Races, as it is practically a . While much of the pull of the place lies in its horse races in the past, its casino is fast-becoming its primary attraction due to its eclectic collection of games being offered. Video Keno is but one of the games that you can choose to play in Hollywood Casino, along with others that are rarely being offered in other casinos. Of course, you can also check out the thoroughbred racing that is still actively being held in the place. The hotel and suite accommodations of the place are comparatively cheaper than the other two casinos mentioned above, but are no less satisfactory, as evidenced by the positive reviews it has received from visitors.
Our Most Popular Keno Casinos for United States: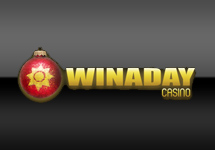 "WinADay Casino is the home of "Power Keno', the most populer online casino game with 7 Cards of Keno at once!"