MultiCardKeno.com » Live Keno »
Keno in Vermont

Situated in North Eastern United States, the state of Vermont is renowned for its natural landscapes which consist primarily of forests. Its capital being Montpelier. Thousands of acres of mountain terrain encompassing this beautiful location, perfect trails for hikers as well as skiing slopes. Considered part of the New England region, Vermont is well known for its historic 19th century covered wooden bridges – there are at present over 100 of them. The region is also notorious for being a major maple syrup producer.
No Casinos in Vermont
Although Vermont has much to offer it sadly does not have any casinos. While there have previously been a few attempt to push for the opening of a casino these efforts have never materialized into anything more than a pipe dream. There are also no Native American resorts in Vermont. It is presumed that the lack of gambling interest stems from the quiet nature emulating from the notion of having a reputation for being seen as rustic, romantic and sleepy. Vermont is considered as more of a get-away destination rather than a gambling hotspot (although Vermont does not have the religious no moral culture providing for a strong opposition- as seen in many other states). Although no one altogether knows the exact reason, regardless – gambling is limited in Vermont.
As seen in other neighbouring states who do not feature an active gambling industry, the prospect of online gambling has not really been pushed for in this state either. Although prominent law makers have in the past opposed national bans on internet casinos even though they, themselves, have no interest in regulating these games in Vermont. However, for those who are interested in playing at a casino the nearest option would be to travel to the neighbouring state of New York. New York has several casino resorts as well Maine – Vermont's other neighbouring state. Other available casinos can be found in Montreal, Connecticut and Massachusetts.
Legal gambling options available
So what gambling options are available to those in Vermont? Lottery. Yes, the Lotto. In 1976 the public voted in favor of establishing the lottery. The following year the General Assembly established the Vermont Lottery Commission. The games went on official sale in 1978 on Valentine's Day. Instant scratch off tickets and drawings were soon made available throughout Vermont.
Keno
Keno is a gambling-like game which is boasts many similarities to the lottery. It is often played in casinos while it is also offered as a game in certain lotteries (although there are no casinos in Vermont.)
Players have to select numbers ranging from 1 to 80. Once all the players have made wagers, a certain number is randomly drawn (20 numbers or less, some draw fewer). This is done with either a random number generator or a ball machine- similar to games like bingo and the lottery. Each casino is usually responsible for setting its own individual pay-out's. These are known as "pay tables". The pay-out for the player will be based according to the number of numbers where selected. Featuring a wide variety of keno pay tables depend greatly on the casino. It usually has a larger "house edge" than any of the other games offered at the casino – ranging from less than 4 percent to over 35 percent.
Keno in Vermont: No casinos in Vermont
In November 2013 a letter was drafted to the Joint Fiscal Committee by Greg Smith- the Executive Director of The Vermont Lottery. He was looking to implement the possibility of Keno in Vermont, as the lottery had become so successful since it had first began. He focused in and brought up the fact the Keno had proved to be highly profitable in 15 other U.S states. It was suggested that they place vendors in bars, bowling alleys and restaurants for Keno to be played. The motivation to implement Keno had been greatly driven on the lack of education funds and Keno could possibly reduce the heavy load it would bare.
However, since discussions in 2013 of implementing Keno in Vermont nothing much has come of it. While others are happy with the prospect others are more sceptical. Since then, the citizens of Vermont have been awaiting with abated breath to see if anything will come of these "discussions" in the near future.
https://news.lotteryhub.com/vermont-considering-new-keno-game/
Our Most Popular Keno Casinos for United States: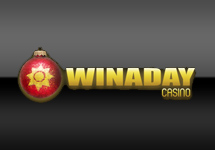 "WinADay Casino is the home of "Power Keno', the most populer online casino game with 7 Cards of Keno at once!"