MultiCardKeno.com » Live Keno »
Keno in South Australia

Keno is an entertaining game of chance that offers many ways for people to win. The design of the game makes it so anyone can possibly win by picking a certain amount of numbers in a draw to aim for a big win.
There are a few places in South Australia where people can play keno at. These places in particular are primarily located in Adelaide. There are not too many places where keno parlors are located at but there is an option that is available throughout the entire state if you prefer to stick with standard keno play outside of a casino. Specifically, a lottery is included to go along with two particular casinos.
Keno in South Australia: SKYCITY Adelaide
Located inside the old Railway Station building in Adelaide, SKYCITY Adelaide has a number of gaming machines all around with a few offering digital keno. The games are organized with a number of ways for people to win and are fairly engineered to be entertaining and easy to play with. This is clearly the largest casino for people to play at while in South Australia as it contains more appealing sites including not only digital keno spots but also a race book and poker room among other features. After playing keno, enjoy some time at the buffet or one of the many other bars and restaurants in the casino. The place even has a spa where you can wind down and relax at while enjoying a nice time where you are.
Website: https://www.adelaidecasino.com.au/
Keno in South Australia: Exeter Hotel
Head out to the city of Exeter to play keno at the appropriately named Exeter Hotel. This place has its own dedicated keno parlor that offers several screens that make it easier for you to see what numbers are being drawn. A mix of both digital and physical keno draws is available. The jackpots available for big wins are always growing with the staff ready to help people with getting the most out of a fun draw. This casino is not as large as others around Australia although it does have enough keno action for people to have fun with to begin with.
Website: https://www.exeterhotel.com.au/
Keno in South Australia: SA Lotteries
There are not all that many places that people can visit when aiming to play great keno action in a traditional casino environment but people do have the option to play keno through the SA Lotteries group. The firm offers regular keno action with draws every 3.5 minutes.
The game is accessible through hundreds of SA Lotteries offices and retailers around the state. The game lets people pick a certain number of balls based on one's preference. The game includes many jackpots with some of them worth $1 million or more. The ten spot version of the game where you would have to get ten numbers picked at a time is clearly the most valuable option to check out so try this out when you are looking for something fun to play with.
Website: https://thelott.com/salotteries
Our Most Popular Keno Casinos for United States: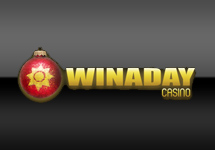 "WinADay Casino is the home of "Power Keno', the most populer online casino game with 7 Cards of Keno at once!"