MultiCardKeno.com » Live Keno »
Keno in Queensland

With its heavy focus on tourism, Queensland is a major driver of gambling in Australia. With over 12 hotel casinos, 10, 200 slot machines and over 318 table games, Queensland ranks third in Australian states with largest gambling culture. The city of Brisbane hosts the most with 6 casinos.
Keno in Queensland is a major part of the state's experience. The Office of Liquor and Gaming Regulation regulate Keno activities. As a result there's over 3,600 venues where players can place a bet including Queensland casinos, various pubs, community clubs, racecourses, RSL's and news agencies.
Due to its regulation, Keno is available in paper ticket form and electronic play and majority of these venues, with a new game being held across Queensland every 3 minutes.
Keno in Queensland, AUS: Aquis Great Barrier Reef Casino
The 'Sunshine State', Queensland, Australia houses more than 12 multi-game casinos. Most excitingly is the proposed and pre-developed Acquis Great Barrier Reef Casino in Yorkeys Knob is set to become the largest casino in Queensland once built. Until then, there are other big name's to get a gambling fix.
Keno in Queensland, AUS: Star Casino
There are 2 Star Casino franchises in Brisbane and Gold Coast. Both these casino hotels cater to over 20,000 slot machines combined and 320 table games; with Star Brisbane as the second largest in the state. Included in both these institutions, the Star Casino's also offer both the online and standard form paper Keno options.
Bonus Keno games are available at all these venues as well. At Star Casino and other venues, the Keno Bonus Game doubles a players cost of their ticket but in return, the chances of multiplying any Keno wins can rack up to almost x10 times as much.
Keno in Queensland, AUS: Pullman Reef Hotel Casino
Located in Tropical North Queensland, the Pullman Reef is another one of the largest Keno playable venues in the state. Just like majority of the ways the world plays Keno, by choosing between 1 and 15 spots out of a possible 80 numbers available and waiting to see if your numbers are chosen by the computer draw there are also other ways to boost a player's chances.
On top of standard Keno, there's also the bonus game of Keno Heads or Tails. This betting boost involves the normally chosen numbers as well as an additional choice of Heads or Tails keno game. Choosing heads indicates more drawn numbers will be in the top half of the Keno ticket card and choosing tails indicated the bottom half. If a player bets correctly, their money is doubled.
Keno in Queensland, AUS: Sea and Sun Princess Cruises
Off-land options to play Keno can also be found in two cruise liners that sail into the ports of Brisbane, the state's capital city. Both Sun Princess and Sea Princess Cruises are multi-game loaded cruise ships that also take Keno.
As you would a normal casino, players can enter the gaming cabin of the cruise liners and place their Keno bets, either in paper ticket form or electronically. Lucky gambling seafarers may find themselves returning to shore to collect their winnings.
Our Most Popular Keno Casinos for United States: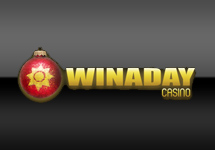 "WinADay Casino is the home of "Power Keno', the most populer online casino game with 7 Cards of Keno at once!"