MultiCardKeno.com » Live Keno »
Keno in Quebec

Quebec is one of the best known Canadian states around the world; and with regards to gambling, it is also one of the leading destinations in the country for both locals ad visitors. In fact, it has a few of the most popular casinos in the country. This is despite the fact that a majority of the casinos in the country are located in three other states.
With its choice of 10 casinos, Quebec has quite a number of delights to offer its gambling fans. The stage gambling agency, Loto-Quebec, also provides its own gambling services, including Keno. In addition to keno, the state also supports slots, poker, and a host of other table games. But our focus today will be on keno, and here are the best places to visit for a chance to enjoy this game while in Quebec.
Keno in Quebec: Casino de Charlevoix
With its 70 thousand square footage, five restaurants and over 400 hotel rooms, this is by no means a small gambling establishment. This has made it the obvious choice for keno lovers in Quebec because in addition to offering slot and table games, it has lively and exciting version of this beloved luck based game. And with other distractions close by, for instance golfing, restaurants and other forms of entertainment, you will find the magnetic appeal of this gambling establishment irresistible. The casino also offers a splendid ambiance that will keep you in your best spirits as you enjoy its broad selection of casino delights. Casino de Charlevoix is also very easily accessible as it is just a hour and a half from Quebec's Jean-Lesage International Airport.
Website: https://casinos.lotoquebec.com/en/charlevoix/play/whats-new
Keno in Quebec: Casino de Montreal
This is the largest casino in Canada, which makes it the ideal destination for keno lovers in Canada as a whole. Also known as Montreal Casino in English, this casino is a great place to indulge your love for keno. The casino is open around the clock, and it was established back in the early nineties. As one of the biggest of its kind in Canada, it has become a must-visit destination for many gambling fans visiting Quebec. More importantly, its numerous keno facilities have made it quite friendly to lovers of this casino game. Furthermore, its great selection of speed lotteries will also give you a great keno alternative whenever you need it. Obviously, if you would like a taste of slot gaming or other popular table games while at this casino, you will get plenty of that as well.
Website: https://casinos.lotoquebec.com/en/montreal/play/all-the-games
Keno in Quebec: Casino du Lac-Leamy
This prestigious casino gets about 3 million visitors each years. And yes, in addition to popular casino games like poker and slots, it also offers keno gaming. Surprisingly, this is a government-operated casino, and it formerly bore the name Casino de Hull. The casino has about 1,500 employees and comes with several bars and restaurants, and is connected to a 349-room Hilton Hotel. Both regular players and high rollers are welcome to try their luck at the 70-thousand square foot facility, including keno players. The casino is open round the clock, which means the fun never stops. Finally, in addition to gambling and fine dining, the casino also has an 1100-seat theater which is something of a choice regional music venue.
Website: https://casinos.lotoquebec.com/en/lacleamy/play/all-the-games
Keno in Quebec: Espacejeux
This is another state-run gambling outfit that offers keno to Quebec residents. The casino offers a friendly gambling environment with all the support you need to enjoy this game in all its glory. The casino provides Instant Keno games, and you can play with as little as a dollar and yet stand a chance to win up to a quarter of a million dollars.
Website: https://www.espacejeux.com/
Our Most Popular Keno Casinos for United States: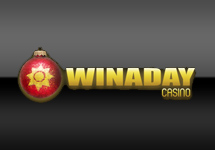 "WinADay Casino is the home of "Power Keno', the most populer online casino game with 7 Cards of Keno at once!"