MultiCardKeno.com » Live Keno »
Keno in Ohio

Gambling has become a popular activity in Ohio in recent years. The introduction of casinos in Cleveland, Cincinnati, Columbus and Dayton has made it to where people around the state can enjoy all sorts of fun casino games. The Ohio Lottery has also been providing players in the Buckeye State with plenty of gaming options since 1973.
While the casinos have plenty of different games, the casinos in Ohio do not have any keno parlors. However, players can easily play keno all around Ohio thanks to the Ohio Lottery. The lottery has keno games throughout the day while making it easy for players to enjoy this game.
Keno in Ohio: Ohio Lottery
Founded in 1973, the Ohio Lottery has a number of games for people around the state to play. It offers instant scratch games, EZPlay games that can be printed off of a lottery terminal and draw games of all sorts. These include both national draw games and some state games like the Rolling Cash 5 game.
The Keno game from the Ohio Lottery is a very popular part of its offerings. This works in that a player can pick from a series of numbers on a draw. Twenty numbers out of eighty will be drawn. The key is for a player to get as many numbers to match up as possible.
The game offers a setup where a new game starts every four minutes. The game runs daily from 6:04am to 2:28am. Each game also comes with a Booster that can be bought separately to potentially increase one's winnings on a draw.
The game works in that a player can take a keno slip from any participating Ohio Lottery retailer and filling in the right numbers. A player can choose from one to ten numbers or use the Auto Pick feature to automatically choose a certain series of numbers. A player can also choose to bet on up to twenty consecutive drawings.
A player can choose from a variety of betting options. A player can bet as little as $1 on each draw or up to $20.
The Keno Booster feature is a popular part of the game. This works in that a player can get an additional dollar onto one's drawing to qualify for a multiplier. This will give the player up to ten times one's winnings on a successful draw. The multiplier works at random and can entail two, three, four, five or ten times the prize. However, it can also come up with no multiplier in some cases, thus adding a bit of a risk to the ticket.
The payouts that come from the game will vary based on the money spent on the game and the number of spots on a ticket. The top prize on a $1 ticket is $100,000 for when a player gets all ten numbers on a ten-spot game matched up properly. The maximum payout for a game is $2 million although this is based on points like how much is spent on the ticket and whether the Booster feature is added.
In terms of watching live draws, a player can watch these draws on a closed circuit television set at many Ohio Lottery retailers. The set will reveal numbers in real time. Players can go to the Ohio Lottery website to find places where they can watch these results. Players can also go to the Ohio Lottery website to get information on the results of different draws throughout the day. This is ideal for players who might buy tickets with multiple draws on them. The Ohio Lottery app also helps people to find information on keno draws as they take place and gives them results in real time.
The QuicKeno game is another popular feature that the Ohio Lottery has for keno players. This works with a MPQK or Multi-Play QuicKeno terminal. A player will have to select from two to ten spots on the screen and will reveal numbers immediately. The player can spend as little as 25 cents on this game. players should go to the Ohio Lottery to find details on where MPQK terminals can be found.
Players can claim most prices at any Ohio Lottery retailer. A player might have to go to a regional office in the event that the payout for a game is far too large in size for a retailer to handle.
Website: https://www.ohiolottery.com/
Our Most Popular Keno Casinos for United States: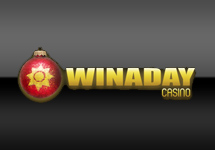 "WinADay Casino is the home of "Power Keno', the most populer online casino game with 7 Cards of Keno at once!"