MultiCardKeno.com » Live Keno »
Keno In Newfoundland & Labrador

St. John's, the capital city of Newfoundland and Labrador, remains the most easterly city in North America, Greenland excluded. With a metropolitan population of just over 200,000 residents, the St. John's Metropolitan Area is Canada's 20th largest. When it comes to playing games and gambling, there are just 2 venues to make bets and have some fun, in all of Newfoundland and Labrador.
Of the 2 venues, only one center offers keno. The second possibility of playing keno here, is through the lottery. All lotteries in the province of Newfoundland and Labrador, are governed by the Atlantic Lottery Corporation, or ALC for short. The ALC is also responsible for regulating other gambling activities, such as online casinos, which they have kept it in a gray area. The local lottery income has thus been in steady decline, as a result of residents turning to online casinos elsewhere. Following are details of these only 2 possibilities of playing keno in Newfoundland.
Keno In Newfoundland: St. John's Racing and Entertainment Center
The St. John's Racing and Entertainment Center, holds an almost gambling monopoly, in the entire province of Newfoundland and Labrador. The second, and only other venue, is the Cowan Plaza Bingo in St. John's as well, where daily bingo games can be enjoyed. For a keno machine, one has to head over to the Racing and Entertainment Center. Although designed primarily for horse racing, the center offers an area, laughingly referred to as the 'racino'. It is here that you will always find a reno machine, amongst a few others. The center is open daily, starting at noon, and includes a poker room, with about six tables, Wednesday nights through Sundays. This center also offers periodic special events, like Texas Holdem Poker Nights. There is ample parking space, and the racetrack offers a 500-clubhouse, plus a 500-grandstand capacity. The general admission fee here is $1, clubhouse admission also costs $1, with parking being free.
Website: www.stjre.com
Keno In Newfoundland: Keno Atlantic from the Atlantic Lottery Corporation
The second opportunity to play keno in Newfoundland and Labrador, is to play the Keno Atlantic, which is organized by Atlantic Lottery. The Atlantic Lottery Corporation is also responsible for four other provinces, asides from Newfoundland and Labrador. They include Nova Scotia, New Brunswick and Prince Edward Island. Keno Atlantic offers a maximum payout of $250,000 for 10 of 10, with $10,000 & $25,000 being very popular top wins. On the other hand, choosing 2 numbers with a 1/13 odd offers a $7 win. The ALC does not currently support online playing of its keno, but slips can be obtained from retailers in both St. John's and across the rest of Newfoundland Labrador. You can either choose the numbers by yourself, or ask for Insta-Pik, which generates them automatically for you. A player can either wager $1, $2, $5 or $10. There is also a Hi-Lo ticket for $2, which selects both 2-SPOT and 10-SPOT numbers for you, in a single transaction. A further opportunity offered, is to automatically play the same numbers for future draws. Simply mark the slip's Advance-Play box appropriately, and you are good for up to 10 consecutive draws.
Website: www.alc.ca
Our Most Popular Keno Casinos for United States: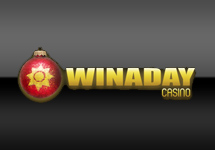 "WinADay Casino is the home of "Power Keno', the most populer online casino game with 7 Cards of Keno at once!"